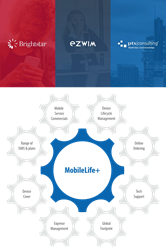 (PRWEB) June 07, 2018
Brightstar, Ezwim and PTS are proud to announce a new partnership to provide Mobile Life+ starting in Europe and North America. Building on the complementary strengths of the three partners, this new service offering addresses the increasing challenge businesses face when enabling a mobile workforce with the right tools at the right time in a cost-effective manner by providing enterprise mobile as a service.
"We're really excited to bring an integrated solution for Device Lifecycle Management, Mobile Life+, to market", said Emer Timmons, Brightstar's Chief Marketing Officer and President Enterprise. "Businesses want to harness the benefits of a mobile workforce without the headache and overhead of managing the service themselves. This new Mobile Life+ service will enable them to do just that"
"Make no mistake, this is a game changer that addresses the challenges our clients face on a day to day basis providing Enterprise Mobile services to their end users", said Ian Noble of PTS. "The rigor, diligence and best practice derived from the end to end solution delivered by our partnership is beyond anything that is currently available to our mutual clients. Working with Brightstar and Ezwim to address the current shortfalls of enterprise mobile services has been both refreshing and rewarding, and speaks highly of our joint determination to bring about change for the better"
"In today's demanding market we are happy to be able to provide an end to end solution to the increasing customer requests we get." said Bram Cool, CEO of Ezwim, "This partnership is able to provide these services to small and large enterprises as well to telco's who want a complete end-to-end solution for their customers."
Recent research carried out by leading analyst house Ovum shows that many businesses are still struggling to get the most out of mobile. Nearly 40% of the 250 decision makers that were interviewed* revealed that either they didn't have strategic plan for mobility, or were not aware of one.
MobileLife+ has been specifically developed to address this issue. Together Brightstar, Ezwim and PTS offer an end-to-end service that incorporates the full mobile life-cycle for a single monthly service fee. It is a tailored end-to-end managed service offering device lifecycle management including asset management, online ordering, dedicated service desk, mobile expense management, and additional managed services. Brighstar is providing the mobile services, Ezwim the SaaS technology, and PTS the hands-on support services. The ambition is to deploy the service initially across EMEA and North America prior to a full global roll-out.
*Large organizations defined as being an entity of 500+ employees. Survey carried out globally including EMEA, APAC, North and Latin America. For a copy of the report contact us.
About Brightstar (http://www.brightstar.com)
Brightstar simplifies the wireless world, making mobile technology accessible to everyone. A subsidiary of SoftBank Group Corp., we are the world's leading mobile services company for managing devices and accessories. We work with carrier, retail and enterprise customers across 70 countries, touching every stage of a device's lifecycle, from when it's manufactured to the moment it's time to trade it in and re-market it.
Press contact: Jeremy Thorp, +44 (0)7785 696 943
About Ezwim (http://www.ezwim.com)
The core of Ezwim lies within its highly effective SaaS solution, built completely in-house. Since 2001, this scalable platform has grown to provide bill presentment, intelligent analytics, asset management, and process automation to Enterprises, Operators and Partners. Rooted in Telecom Expense Management, Ezwim helps its range of customers to manage any type of IT invoice, asset or workflow. Using the workflow module we can provide a full Managed Mobility solution. Through expert consulting and business process outsourcing (BPO) services, Ezwim can flexibly adapt to any challenge a customer presents.
Contact: Yorick Ludolph, +31 6 4684 86 82
About PTS (http://www.ptsconsulting.com)
PTS Consulting has over 30 years' experience of delivering world-class IT solutions to some of the world's leading organisations. We help our clients better align their IT and Business strategies by transforming the workplace through technology innovation and optimisation of services. PTS supports it customers by managing complex transformational change from inception through to post project support services such as Mobile Life+. Operating a 'follow the sun' 24/7/365 service desk with 1st,2nd and 3rd line support, we are well placed to manage the full end to end Mobile Life+ service that will transform the way our mutual clients deliver mobile services and devices to the end users.
Contact Ian Noble +44 7768 696756