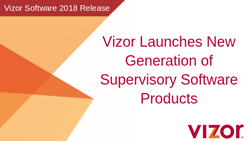 Dublin, Ireland (PRWEB) June 11, 2018
Vizor, the world leader in enterprise supervisory software for financial regulators, today announced the 2018 release of its flagship supervisory platform. This major release offers financial supervisors a new way to respond to the rapid changes in regulatory requirements, using a self-service approach.
Self-service is enabled by a new set of tools that supervisory authorities use to implement significant configuration changes themselves, without the need for lengthy and costly software changes. For example, the new metadata importers automatically create new data collections from existing XBRL taxonomy packages or XML schemas, allowing supervisors to launch new returns within days or weeks.
"Supervisory authorities are experiencing more rapid changes in data collection, to deal with regulatory changes or ad-hoc data requests. With the 2018 release, Vizor Software addresses this need head-on and delivers a unique self-service capability into the hands of business users" commented Joanne Horgan, Chief Innovation Officer at Vizor.
To further support supervisors' need for self-service, the release includes powerful new features to manage validation rules. The enhancements reduce the need for full deployments to production systems and improve the overall efficiency of maintaining and extending Vizor Software.
In addition to the suite of self-service improvements, the platform benefits from a range of security, performance and technical enhancements. Also, the User Interface has been upgraded to a more modern look and feel. For more details on the new release, please visit our 2018 Release page.
About Vizor Software
Vizor Software is the global leader in enterprise supervisory solutions for financial regulators. We help supervisory authorities protect and enhance the stability of the financial system. Vizor is trusted by central banks and supervisory authorities in more than 25 countries for the collection, validation and analysis of highly complex data from financial institutions. Vizor Software is an integrated data collection and supervisory system that is based on best-in-class supervisory models but flexible enough to deal with regulator specific needs. You can learn more at vizorsoftware.com or by following Vizor on Twitter, LinkedIn, Google+.