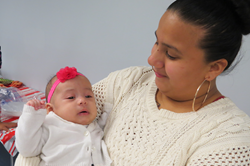 "By ensuring that mothers and children have the support they need to recover together . . . we can help lay the groundwork for continued recovery and healthy parent-child relationships that will last a lifetime," Leslie DeBlasio, Clinical Director of Eva's Women's Residential Recovery Programs
PATERSON, N.J. (PRWEB) June 06, 2018
Eva's Village was selected to receive two new grants from the State of New Jersey to expand outreach efforts, treatment programs, and supportive services for pregnant women, their newborns, and mothers with young children who are struggling with opioid addiction. In early 2018, two separate grant awards of $1.1 million from the Department of Health and $236,000 from the Division of Mental Health and Addiction Services (DMHAS), which are now administered by NJ Integrated Health Services, focus on keeping families together and managing care for addicted mothers and growing numbers of infants born exposed to opioids. Since 2011, between 500 and 630 substance-exposed infants have been born each year in New Jersey. Many of these babies suffer severe withdrawal symptoms within two to three days after birth; they may also be affected by developmental delays, learning problems and behavioral disorders as they grow.
"The goal of our programs is not only to provide the best quality of care for mothers and their children here at Eva's, but to help break the cycle of poverty and addiction that so often occurs in families," explains Leslie DeBlasio, Eva's Clinical Director of Residential Substance Use Disorders Treatment for Women. "By addressing these issues early on – and by ensuring that both the mothers and children have the support they need to recover together as a family, while they are at Eva's – we can help lay the groundwork for continued recovery and healthy parent-child relationships that will, we hope, last a lifetime."
Bringing a child into the world is usually an occasion for joy and celebration, but new motherhood can also be a stressful experience. For women struggling with a substance use disorder, that stress is compounded by a multitude of connected and complex issues. While pregnancy often prompts these mothers to seek recovery, many do not have a support network of family and friends; they may not have a safe place to live or a stable income; they may struggle with guilt as they worry about the effect of opioid use on their newborn's health; and they may fear losing custody. Dealing with these issues and trying to figure out how to access treatment, support and healthcare services for themselves and their infants can be overwhelming. The programs at Eva's Village are designed to help these women navigate options for treatment and perinatal care, and to provide support for continued recovery and wellness for both mother and child after the birth.
The new initiatives will help to remove barriers to perinatal care by coordinating and strengthening existing services offered at Eva's Village. In addition to residential treatment for substance use disorders, Eva's Mommy and Me Program provides on-site childcare and ongoing recovery support. Through the Department of Health's Integrated Opioid Treatment grant, this program now offers enhanced case management; employment counseling and job placement assistance; on-site mental health and family counseling; and transportation to medical and social service appointments for mothers and their children. In addition, specialized therapies, facilitated through a partnership with Youth Consultation Services, help mothers and children work through addiction-related issues that affect bonding and attachment.
The grant also strengthens Eva's ongoing work with St. Joseph's Health to fight the opioid epidemic through new partnerships with the medical center's Perinatal Recovery Program for mothers, with its ambulatory clinic and with its pediatricians. These collaborations provide comprehensive care to meet the specific needs of addicted mothers and substance-exposed infants. Eva's Village and St. Joe's have worked together since 1982 to meet to health challenges facing the Paterson community. Most recently, they joined forces in 2016 to implement the state-sponsored Opioid Overdose Recovery Program, to connect opioid overdose survivors with recovery treatment before they leave the hospital.
The DMHAS grant funds the Maternal Wrap-Around Program, (M-WRAP) which connects pregnant, opioid-addicted women in Passaic and Bergen Counties to services for healthcare and addiction treatment with the goal of a healthy birth outcome and a healthy future for both mother and child. Eva's Case Managers develop and coordinate individual and family care plans after assessing each expectant mother's situation and needs. They also provide referrals and warm hand-offs to service providers throughout the pregnancy and up to one year after the child is born. Through regular check-ins and scheduled home visits the program helps mothers stay connected to services which may include Medication-Assisted Treatment (MAT), housing, legal support, childcare, and social services. Eva's M-WRAP Recovery Specialists work alongside the Case Managers to offer mothers and their infants continued support for long-term recovery including assistance navigating services, and transportation; they may also accompany them to appointments.
More about Eva's Village.
The mission of Eva's Village is to provide care and support for people who are struggling with poverty, hunger, homelessness, and addiction. Founded as a soup kitchen in 1982, Eva's Village began by serving 30 meals a day to feed the hungry in Paterson. Over the years, Eva's Village grew as programs and services were added to address the root causes of homelessness and poverty. Today, Eva's Village offers a range of integrated programs to help those in need move toward recovery, stability, and independence.