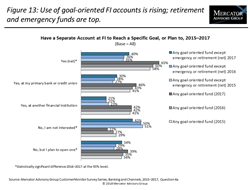 Young adults today are taking advantage of budgeting and financial tools offered by financial institutions and the opportunity to discuss their financial needs and long-term goals. FIs that offer such tools and guidance can increase their customers' wealth and their own profitability.
MAYNARD, Mass. (PRWEB) June 06, 2018
Mercator Advisory Group's most recent Insight Summary Report, Consumers and Personal Finance: Advice and Tools Breed Engagement, from the bi-annual CustomerMonitor Survey Series, reveals that 65% of U.S. consumers have set aside funds dedicated to meet financial goals, up from 60% in 2016 and 58% in 2015. Retirement, followed by emergency, are the types of funds that consumers are most likely to have designated, followed by college or education, vacation or travel, life events and home improvement. And, 39% of respondents plan to open up a new fund dedicated to meet their goals, up from 35% in 2016 and 34% in 2015 who planned to do so.
Except for retirement funds, consumers who designate funds for specific goals are more likely to set aside those funds at their primary financial institution than at another financial institution. Consumers who discuss their financial goals with their primary financial institution are even more likely to do so.
Most consumers need support to manage their finances and the survey findings suggest that at least 3 in 5 consumers would be interested in automated savings plans, support for budgeting or tracking progress toward goals from their financial institution. Yet, just 28% of the respondents in 2017 said they have ever discussed their financial goals with their primary financial institution and another 11% said they have never done so but wished that their primary financial institution had asked them and could provide financial advice for them. Consumers who have discussed their financial goals with their primary FI are twice as likely as average to have opened up a defined, goal-oriented account to save for specific financial goals at their primary FI. More consumers recognize that they need help to reach their financial goals.
Consumers and Personal Finance: Advice and Tools Breed Engagement, the latest Insight Summary Report from Mercator Advisory Group's Primary Data Service, is based on a sample of 3,000 U.S. adults surveyed in the annual online Banking and Channels survey of Mercator's CustomerMonitor Survey Series, conducted in November 2017.
The study highlights consumers' use and interest in setting household budgets, defining financial goals and services that financial institutions can provide to help their customers reach their goals and build their wealth. It examines the opportunity for financial institutions to offer financial advice and identifies the types of financial advice they currently use, wealth management account relationships, small business owners and the demographics of consumers most interested in budgeting and personal finance in terms of use of personal financial management (PFM) tools, mobile and online banking activities performed, new account opening, and interest in mobile-based personalized services.
"Managing personal finances can be daunting, but more consumers recognize they need help to achieve their financial goals and would benefit from services and advice to help build their wealth. Young adults, today are taking advantage of budgeting and financial tools and the financial institutions that offer these tools and discuss customers' real financial needs and long-term goals, there is a significant opportunity to increase their customers' wealth and their own profitability," stated the author of the report, Karen Augustine, senior manager of Primary Data Services at Mercator Advisory Group, which includes the CustomerMonitor Survey Series.
Highlights of this report include:

Type of financial institutions used and those considered primary
Profile of business owners, by demographics, part-time vs. full-time, and revenue generated
Use of financial advisors by type and separately, wealth management accounts and relationships
Consumers' interest in credit monitoring and support for budgeting and other support for financial goal setting from their respective primary financial institution
Personal financial management habits such as adhering to household budget, designating separate accounts to reach specific financial goals, and use of personal financial management (PFM) tools
Channels preferred by banking customers to communicate with their financial institutions
Important factors in bank selection
Participation in financial institution's relationship rewards program and extent to which it motivates further engagement
Interest in mobile-based personalized banking services
Demographic profile of customer segments most interested in financial advice
The report is 62 pages long and contains 31 exhibits
Members of Mercator Advisory Group CustomerMonitor Survey Series Service have access to this report as well as the upcoming research for the year ahead, presentations, analyst access and other membership benefits.
Please visit us online at http://www.mercatoradvisorygroup.com.
For more information and media inquiries, please call Mercator Advisory Group's main line: 1-781-419-1700 or send email to media@mercatoradvisorgroup.com.
For free industry news, opinions, research, company information, and more, visit us at http://www.PaymentsJournal.com.
Follow us on Twitter @ http://twitter.com/MercatorAdvisor.
About Mercator Advisory Group
Mercator Advisory Group is the leading independent research and advisory services firm exclusively focused on the payments and banking industries. We deliver pragmatic and timely research and advice designed to help our clients uncover the most lucrative opportunities to maximize revenue growth and contain costs. Our clients range from the world's largest payment issuers, acquirers, processors, merchants and associations to leading technology providers and investors. Mercator Advisory Group is also the publisher of the online payments and banking news and information portal PaymentsJournal.com.