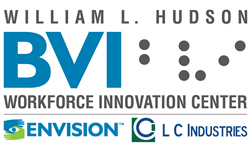 "The BVI Workforce Innovation Center has already made strides toward a more accessible environment. We are proud to be moving forward with this initiative, and look forward to seeing a brighter employment future for all." - Michael Monteferrante, Envision
WICHITA, Kan. (PRWEB) June 07, 2018
Government officials, business leaders and donors joined members of the board, executive team and staff of Envision at the organization's downtown Wichita headquarters this morning to participate in the grand opening of the William L. Hudson BVI Workforce Innovation Center. A joint partnership with Durham, N.C.-based LCI, a sister agency to Envision, the center is designed to train people who are blind or visually impaired, place them into skilled positions and provide accessibility inclusion expertise to businesses around the United States. The naming of the center honors the ongoing legacy of William L. "Bill" Hudson, CEO of LCI, an icon in the industry who has been at the center of creating national employment opportunities for people with vision loss for the past 50 years.
"I'm honored to unveil a facility with a mission to deliver considerable benefits to employees and employers alike," Hudson said. "Envision and LCI stand together proudly as two of the country's largest employers of individuals who are blind or visually impaired. We look forward to seeing many other organizations step into that circle as a result of the BVI Workforce Innovation Center's efforts."
This morning's ceremony marked completion of the BVI Workforce Innovation Center's offices on the fifth floor of Envision's headquarters. Envision and LCI announced the creation of the BVI Workforce Innovation Center in February and simultaneously launched a $5.1 million fundraising campaign. Efforts to date have secured a $750,000 challenge grant from the Tulsa, Okla.-based J.E. and L.E. Mabee Foundation as fundraising continues through December 2018. Major gifts from LCI Foundation, Carl and Gigi Allen of Dallas-based Allen Exploration and Kansas City-based The Sunderland Foundation have contributed to that goal.
"We are grateful to LCI Foundation, Carl and Gigi Allen, the Mabee Foundation, The Sunderland Foundation and all of our generous supporters for bringing us to this momentous occasion," said Michael Monteferrante, Envision president and CEO. "The William L. Hudson BVI Workforce Innovation Center has already made strides toward a more accessible environment for individuals who are blind or visually impaired. As it now settles into its formal home, comprehensive execution of its mission can begin. We are proud to be moving forward with this collaborative initiative with LCI, and we look forward to seeing a brighter employment future for all."
Also joining Hudson and Monteferrante in today's festivities were Kansas Gov. Jeff Colyer, National Industries for the Blind President and CEO Kevin Lynch and American Foundation for the Blind President and CEO Kirk Adams. Other speakers who voiced their enthusiasm over the mission of the facility and the progress it has made to date included:

Jeff Longwell, mayor of the City of Wichita
Gary Plummer, Wichita Regional Chamber of Commerce president and CEO
David Dennis, Sedgwick County Commission chairman
Heather Hogan, Envision senior vice president of Foundation and Mission Services
Mike May, William L. Hudson BVI Workforce Innovation Center executive director
Sam Williams, Envision, Inc. Board of Directors chairman
Mike Hess, Blind Institute of Technology founder and executive director
Gary Wunder, Braille Monitor editor and National Federation of the Blind Missouri president emeritus
Currently, opportunity in employment is out of reach for the majority of people with vision loss. The 70 percent unemployment rate within that segment of the population has remained disproportionately high compared to individuals without a disability. Lack of inclusion, accessibility and accommodation in the workplace create significant barriers to the generation and availability of jobs.
The BVI Workforce Innovation Center will address gaps in job creation in the professional/high-tech sector by providing experiential job training and placement in skilled, professional roles. Efforts will also include advocating at state and federal levels for more businesses to make their facilities and jobs accessible to candidates with vision loss, testing/evaluating assistive technology and working with employers to establish a culture of inclusion and provision of upward mobility opportunities in their workplaces.
To learn more about the BVI Workforce Innovation Center, visit its official home on the web at https://www.workforceforall.com.
About Envision: Envision promotes advocacy and independence for those who are blind or low vision. Founded in 1933, Envision is one of the largest employers of individuals with vision loss in the nation. Headquartered in Wichita, Kan., Envision's mission is to improve the quality of life and provide inspiration and opportunity for people who are blind or visually impaired through employment, outreach, rehabilitation, education and research. For more information, visit http://www.envisionus.com.
About LC Industries: Founded in 1936, LCI (http://www.lc-ind.com) is the largest employer of people who are blind or visually impaired in the United States. Its mission is to provide meaningful employment for people who are blind. Since its founding, the company has grown to manufacture more than 2,500 different products and supply more than 4,500 products to military bases from its 36 Base Supply Stores and two distribution centers in Durham, N.C., and Las Vegas, Nev.