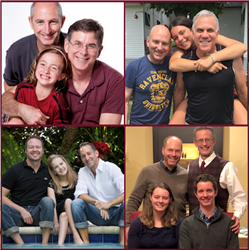 "The conference offers gay men guidance and access to valuable resources in their journeys to fatherhood"
FORT LAUDERDALE, Fla. (PRWEB) June 07, 2018
Men Having Babies (MHB) is an international non-profit organization that has helped thousands of gay men worldwide become biological parents. On June 9-10th, with the help of several leading LGBT groups from Florida, the organization is bringing its comprehensive Surrogacy Seminar & Gay Parenting Expo to Florida for prospective gay parents from both the USA and Latin America.
The June 9-10th event is based on the successful model of programs Men Having Babies has already organized in NYC, San Francisco, Chicago, Brussels, Dallas, and Tel Aviv. The conference kicks off with a panel discussion comprised of gay surrogacy dads and the surrogates who helped them in their journeys. In addition, the conference will feature, for the first time in Florida, a panel of teenagers born via surrogacy to gay parents. This program, open to the community at large, is offered in a partnership with the Outspoken Generation program of Family Equality Council.
"When it comes to LGBTQ family formation, some of the best experts are youth who grew up in our families," says Emily McGranachan, Director of Family Engagement at Family Equality Council. "We have partnered with Men Having Babies for several years now in other locations, and we are thrilled to create the panel at the Fort Lauderdale conference for the first time this June."
The Fort Lauderdale conference is receiving wide support from leading LGBT establishments in Florida including South Florida Family Pride, Pride Center Equality Park, Equality Florida, Pridelines and media partners South Florida Gay News, OutClique Magazine and Watermark Media.
The event will take place on June 9th, 2:30 p.m. – 8 p.m., and June 10th, 8 a.m. – 6 p.m. at the GalleryOne – A DoubleTree Suites by Hilton Hotel, 2670 East Sunrise Boulevard, Fort Lauderdale, Florida, 33304. Go to menhavingbabies.org/florida for registration and additional information.
"MHB's conferences are primarily focused on biological parenting options for gay men, and designed to provide unbiased information and access to reputable and ethical professionals who can help with the process," said Ron Poole-Dayan, the founder of the organization and its executive director. The two-day program will include an overview of surrogacy and a comparison to other parenting options, step-by-step guidance on the process for prospective parents, and peer advice on budgeting and picking providers. "The program is designed such that prospective parents at all stages of their journey will greatly benefit," he said. "Furthermore, on Saturday evening, June 9, right after the teen panel, MHB and several local organizations are hosting a community-wide happy hour and networking reception."
The Gay Parenting Expo, starting Sunday, June 10 at 8am, is featuring more than 35 clinics, agencies, lawyers and community organizations. While some of the exhibitors are local, many are coming to Fort Lauderdale for the first time from a dozen other states and even Canada. Attendees will be able to learn more about these providers in breakouts sessions and, if appropriate, at private consultations.
"We are thrilled to see such a wonderful organization creating such an important conference for the gay and Latin community in Florida where we've' been helping families grow for the last 15 years," says Kelly Keller, Director of Operations for Open Arms Surrogacy, platinum sponsor of this event "We are looking forward to helping educate many in this very complicated world of surrogacy and egg donation."
Proceeds from sponsorship and exhibiting fees will benefit MHB's Gay Parenting Assistance Program (GPAP), which annually provides dozens of prospective parents with over a million dollars' worth of cash grants, discounts and free services from more than fifty-eight leading service providers. Over the last 4 years, this program has helped more than 750 couples and individuals achieve their goals of becoming fathers. "If we truly wanted to make a difference by establishing Men Having Babies, we knew we had to help prospective parents financially achieve their dream of starting a family, and the GPAP program does just this," said Anthony Brown, MHB's Board Chair. "We want to give the opportunity to people who would otherwise not be able to afford surrogacy."
The majority of the 35 exhibitors at the Florida conference are supporters of the Gay Parenting Assistance Program, including Gold sponsors: Creative Family Connections, Oregon Reproductive Medicine, WorldWide Surrogacy, Simple Surrogacy, San Diego Fertility Center, Fertility Specialists of Texas, Canadian Fertility Consultants, CReATe IVF, CT Fertility, Family Source Consultants, American Fertility Services and Creative Love.
The Florida conference is one of six annual conferences held by Men Having Babies worldwide this year, with two other conferences planned for 2018 are in Brussels and New York.
Note: while the event is organized by a gay parenting organization, non-gay prospective parents are also welcome and will no doubt highly benefit from the information provided.
Note: Interviews with parents, prospective parents, surrogates and experts can be arranged by request.
About Men Having Babies
With over 7000 future and current gay parents worldwide, the international nonprofit Men Having Babies (MHB) is dedicated to providing its members with educational and financial support. Each year over a thousand attendees benefit from unbiased guidance and access to a wide range of relevant service providers at its monthly workshops and conferences in NY, Chicago, Brussels, San Francisco and Tel Aviv. The organization's Gay Parenting Assistance Program(GPAP) annually provides dozens of couples with over a million dollars worth of cash grants, discounts and free services from over fifty leading service providers. Collaborating with an advisory board made of surrogates, MHB developed a framework for Ethical Surrogacy that has received endorsements from several LGBT parenting organizations worldwide. In addition, MHB offers extensive online resources, a directory with ratings and reviews of agencies and clinics, a Surrogacy Speakers Bureau, and a vibrant online community forum.
More information: http://www.menhavingbabies.org