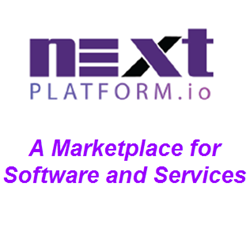 "We are very pleased to provide a risk-free way for businesses of all sizes to buy enterprise software solutions and services without the heavy lifting," said Sheetal Pansare, CEO of Futurism Technologies. "This will also enable vendors to easily productize and distribute their work effectively.
CHICAGO (PRWEB) June 07, 2018
Futurism Technologies, a leading Next Generation Information Technology Services and Solutions company, today announced the launch of the NEXTPlatform.io™ at the Internet Retailers Conference and Exhibition June 5-8 at McCormick Place West, Chicago, IL. The NEXTPlatform.io™ provides a Simple, Transparent and Guaranteed marketplace for companies to buy and sell pre-configured software solutions and services.
Buying software is challenging. After selecting a base software package, customers typically work with an integrator to have it customized. The process and pricing can be lengthy and opaque. It's time to decentralize the IT services industry! The NEXTPlatform.io™ is a marketplace featuring pre-configured software packages and services with pricing right up-front. Buyers will be able to change configurations and options, and then track the build and configuration process. Once delivered, buyers will have a trial period to cancel their purchase. They also have enhanced search options that allow them to search by software, vertical or service and to compare software and ratings. On the other side, any vendor can market their pre-packaged or pre-configured software and services on the NEXTPlatform.io™.
"It's time that we adopt new ways to cut the waste out of our industry. Imagine a retailer being able to buy an e-commerce store integrated with a CRM and with a ChatBot and churn predictor built in without having to do a custom build," said Scott Yoneyama, VP of North American Sales. "The NEXTPlatform.io™ will reduce the amount of custom integration work being repeated on the customer side and increase the revenue multiplier for new projects on the vendor side. Too many customers are paying for the same work. If a vendor builds this for one customer, why not enable them to productize it and sell it to the masses? Everybody wins!"
For more details please visit http://www.NEXTPlatform.io
About Futurism Technologies
Futurism Technologies (Futurism) is a leading Next Generation Information Technology Solutions and Service Company with offices in the United States, Germany, UK, Dubai, Australia, and India. Founded in 2003, Today, Futurism is also known for its digital transformation solutions like its Dimensions™ e-commerce platform, its Chatbot, AMI™, its churn product, Predict™ and now the NEXTPlatform.io™. Find us at http://www.futurismtechnologies.com.