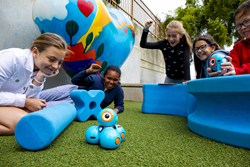 SAN MATEO, Calif. (PRWEB) June 07, 2018
WHAT: School's, out, for, summer! This week, Wonder Workshop launched "Summer of Wonder": 12-weeks of hands-on, fun, free, downloadable/printable activities that will help parents keep their kids engaged and avoid the summer slide (summer brain drain, summer slump, etc). The new summer packets are chock-full of online and offline activities for the entire family, with a mix of challenges for the Dash and Cue robots, as well puzzles and reading list recommendations. Half of the activities don't require kids to have a robot. Packets will also include special summer promos for Wonder Workshop's award-winning robots and accessories, including the brand-new Sketch Kit.
WHY: Summer is about enjoying the outdoors with family and friends. But it's also a time when everything your child learned during the school year starts to fade. The new packets from Wonder Workshop are guaranteed to engage kids' imaginations and minds in a way that is fun and entertaining for the whole family. Throughout the 12-weeks, Wonder Workshop encourages parents to connect, learn and share with others on social media by using the hashtag #FunWithWonder.
WHEN: Over the next 12 weeks, parents can download the family-friendly activities at http://www.makewonder.com/summer. Packet #1 is now available, with new packets available every two weeks. Last packet will be released on August 13th.
ABOUT WONDER WORKSHOP: Wonder Workshop's mission is to inspire inventors of all ages by giving them the tools to imagine and create the future. The company is committed to helping children succeed in the 21st century and developing in-depth experiences that balance fun and learning, promote collaboration, and provide enduring value to both girls and boys -- at home and in the classroom. Wonder Workshop's award-winning products are used by millions at home and in more than 20,000 schools worldwide.
CONTACT: For more information about Wonder Workshop or to learn more about Wonder Workshop family friendly summer activities, please email press_inquiries(at)makewonder.com.