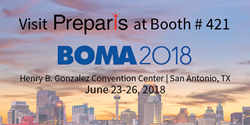 "Attending tradeshows like BOMA has helped us grow our business to become the leading provider of incident management, life safety, and emergency messaging services and solutions." - Wade Tucker, CSO at Preparis
ATLANTA (PRWEB) June 07, 2018
Emergency notification and incident management software and services provider, Preparis, announced that they will be attending the Building Owners & Managers Association (BOMA) International Conference & Expo at booth #421 in San Antonio, Texas June 23-26, 2018. http://www.preparis.com/
BOMA promises learning, networking, and innovation for the commercial real estate industry. Experienced and knowledgeable speakers will offer the best strategies for asset value optimization. Additionally, BOMA claims to "embed sustainability initiative into operational practices, hone leadership skill, and cultivate next-generation talent."
In the midst of tradeshow season, Wade Tucker, Chief Sales Officer at Preparis, explains the importance of these events as, "excellent networking opportunities where we can share our expertise with industry professionals. There is always new information and ways of looking at things and attending BOMA each year is a great way to share that knowledge with attendees."
BOMA, founded in 1907, represents owners and managers of all commercial property types. This includes over 10 billion square feet of U.S. office space while supporting 1.7 million jobs and contributing $235 billion to the U.S. gross domestic product.
Each year, thousands of people gather at the BOMA International Conference & Expo, and this year is no exception. "We keep coming back to BOMA because every year we are more successful than the last. Attending tradeshows like BOMA has helped us grow our business to become the leading provider of incident management, life safety, and emergency messaging services and solutions," concluded Tucker.
Charles Pearson, CEO at Preparis said the company is, "confident we can convey the value of our technology and services solutions to CRE professionals. Now more than ever, it is important that companies stay compliant with regulatory bodies like OSHA and NFPA, and we are qualified to help."
For more information on Preparis' offerings for the Commercial Real Estate industry, visit http://www.preparis.com/commercial-real-estate/.
To speak with a sales representative, visit http://preparis.com/request-demo/.
###
Preparis is an all-in-one life safety and emergency notification solution that helps businesses protect their people, operations and brand while meeting regulatory requirements. The company's unique combination of technology and services makes creating and maintaining life safety and emergency preparedness programs easy. For more information about Preparis, please visit http://www.preparis.com or call (855) 447-3750.