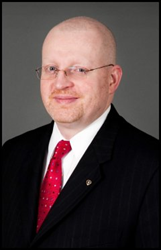 DURHAM, N.C. (PRWEB) June 12, 2018
James Scott Farrin attorney and law firm shareholder, Michael Jordan, was recently named to the Durham Bar Association Nominating Committee for 2018–2019. Jordan, who recently reached the 25-year mark as a North Carolina attorney is among the nine attorneys selected to evaluate and elect officers and directors to the Durham Bar Association's Fourteenth Judicial District.
With so many years practicing law and advocating for those injured or unjustly treated, Jordan's legal experience includes personal injury, workers' compensation, products liability, medical malpractice, mass tort, and eminent domain law. Jordan will be recognized for 25 years of legal advocacy and service at the Durham Bar's annual meeting, June 13th, at the Durham Convention Center.
"I appreciate this recognition by the Durham Bar, which has been my home Bar throughout my career. As a native of Durham, the Bull City is special to me, and it has been an honor to serve the citizens of Durham and surrounding areas in the state for 25 years. It has also been fulfilling to be part of building one of the largest plaintiff's firms in the state, which has also been headquartered in Durham for our entire existence. I have many wonderful memories where we changed the lives of my clients, and I look forward to helping even more people in the next 25 years."
With a J.D. from North Carolina Central University School of Law and a B.A. in Journalism from the University of North Carolina at Chapel Hill, Jordan started his own general practice law firm in Durham in 1993. At about the eight-year mark, tragedy struck. He was nearly blinded from an injury to the point where he had to close his practice, but was able to stay open long enough for his employees to find other positions. Jordan, who is steeped in a strong faith, admits that while this was a "frustrating" time in his life, it was a "blessing in disguise" because it led him to personal injury law.
"It gave me a great appreciation for what people go through with an injury. I knew what it was like not being able to function and how frustrating that can be," Jordan said. "Moreover, I also feel blessed because I am better able to really understand the struggles clients face when dealing with significant injuries because I've been in their shoes."
He eventually joined the Law Offices of James Scott Farrin in 2001, and the following year, James S. Farrin, firm Founder and President offered Jordan a shareholder position at the firm.
"When Mike joined us, our firm was just starting to take root and we were seeking an attorney to help expand our practice areas. Then, as now, I looked for strong leadership, wisdom, and a true calling for advocacy – and someone with the reputation of having the utmost integrity. It was clear after working with Mike for just one year that he would be an asset to our leadership team. 16 years later, Mike continues to provide sound leadership direction to our firm as well as to teams and individual associates."
Jordan advocates for struggling clients not only as a lawyer, but also as a long-term member of the American Association for Justice and the North Carolina Advocates for Justice (NCAJ), where he serves on the Ethics Committee and Legislative Committee. He has previously served on the Board of Governors, chaired the NCAJ Publications Committee, served on its Executive Committee for the Auto Torts Section, and was awarded their "Order of Service" award nine consecutive years. He has been a regular speaker at various continuing legal education (CLE) seminars, and served as a host and emcee for various legal programs.
Jordan has also held positions on committees and subsections for the North Carolina Bar Association and served on the Advisory Board for the North Carolina Chapter of Mothers Against Drunk Driving (MADD). He has also authored parts of the "North Carolina Personal Injury Liens Manual," published by LexisNexis.
He is a member of the North Carolina State Bar, the North Carolina Bar Association, the 14th Judicial District Bar Association, and the Durham Bar Association.
Although Jordan has been recognized for his contributions to the broader legal community, he emphasized that his true passion is working to ensure that James Scott Farrin clients receive the help they need.
ABOUT THE LAW OFFICES OF JAMES SCOTT FARRIN
The Law Offices of James Scott Farrin is headquartered in the American Tobacco Historic District, adjacent to the Durham Bulls Athletic Park, in Durham, North Carolina, with 13 additional offices statewide in Charlotte, Fayetteville, Greensboro, Greenville, Goldsboro, Henderson, New Bern, Raleigh, Roanoke Rapids, Rocky Mount, Sanford, Wilson, and Winston-Salem. The firm's 46 attorneys focus on the following practice areas: Personal Injury, Workers' Compensation, Social Security Disability, Eminent Domain, Whistleblower, Civil Rights, Mass Torts, and Products Liability. Six of the attorneys are North Carolina Board Certified Specialists in Workers' Compensation Law and one is a North Carolina Board Certified Specialist in Social Security Disability Law. The Law Offices of James Scott Farrin is involved in the community, including sponsorship of local philanthropic organizations.
Contact Information:
David Chamberlin
280 S. Mangum Street, Suite 400
Durham, NC 27701
866-900-7078
http://www.farrin.com