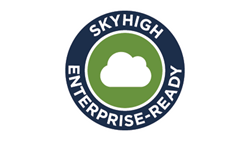 MyWorkDrive exhibited at the RSA Conference in San Francisco - THE premier cyber security industry conference - There is a reason we were there and cloud-based file share vendors were not.. - Jackie R. Bruckman CMO MyWorkDrive.
SAN FRANCISCO (PRWEB) June 08, 2018
MyWorkDrive- the San Francisco based startup redefining Enterprise file sharing and Content Collaboration, releases version 4.2 this week and continues its upward trajectory partnering with Enterprises in the Healthcare, Education, Government, and Financial sectors. MyWorkDrive employs the 5 C's while being THE alternative to typical file share cloud and VPN services: Compliance, Control, Cost of Ownership, Cloud Capabilities, and Collaboration.
MyWorkDrive has been awarded the Skyhigh CloudTrust™ rating of "enterprise-ready" for its server software solution. Skyhigh identifies and classifies thousands of cloud services and provides an objective and detailed evaluation of the enterprise-readiness of each cloud service based on a detailed set of criteria developed in conjunction with the Cloud Security Alliance (CSA). The evaluation spans five categories: Data attributes, User and device attributes, Service attributes, Business attributes and Legal attributes. Skyhigh Enterprise-Ready cloud services fully satisfy the most stringent requirements for data protection, identity verification, service security, business practices, and legal protection. MyWorkDrive is excited to have received the Skyhigh CloudTrust acknowledgment for the measures undertaken to develop its security strategy.
GDPR Compliance is critical as the EU's General Data Protection Regulation is now in being enforced. Companies could face penalties in the millions or billions for non-compliance. Controlling company data is key - cloud-based file sync and share providers still force enterprises to sync or migrate - with MyWorkDrive all digital assets remain in place. Cost of Ownership is dramatically reduced with MyWorkDrive where VPN support costs are reduced 50% or more.
Cloud capabilities including secure remote access from anywhere anytime are hallmarks of MyWorkDrive's on-premise application. Enterprises collaborate efficiently and securely as users edit and share files instantly without having to sync, migrate or change how they work.
MyWorkDrive helps companies meet compliance standards such as HIPAA, FNRA, and GDPR by enabling secure, audited access from a networked mapped drive, secure web browser login, or mobile apps from anywhere. New enhanced features in version 4.2 include: New mobile web browser client, Android Office 365 mobile app document editing, New Mapped Drive scripted install options and Local Office Online server support.
MyWorkDrive is a product and dba of Wanpath LLC, founded in 2014 and based in San Francisco, CA. For Enterprise and Standard Edition visit MyWorkDrive.com.