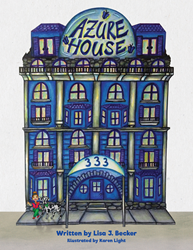 I wrote the book in a poem-like, rhythmic-style cadence to make it fun for kids to read and also so parents can read it to younger children in the same way for their enjoyment too.
BUFFALO GROVE, Ill. (PRWEB) June 07, 2018
In her new book "Azure House," Buffalo Grove resident Lisa J. Becker invites young children and their families to "meet" 27 colorful residents who can be anyone's neighbor.
Presented in a very unique, poetic style with a nod to the alphabet and beautifully illustrated by Karen Light, readers learn about characters such as Veronica Valentine, a dentist with a penchant for calming patients with celebrity gossip; Jesse Jaffe, a handsome television reporter interviewing everyday people and Crystal Campus, personal shopper for famous clients and mother to Cal, her 4-year-old son and constant companion.
Becker developed the whimsical "Azure House" concept from her desire to write children's books that were fun, imaginative and engaging. Using the alphabet as inspiration for learning, she wrote about colorful characters with first and last names beginning with the same initial. The book's title is also alphabetical.
"I wanted to make sure that the name of the apartment house had the letters A and Z in it," Becker said. "I did a lot of research to find the right word. When I found azure, I knew instantly that it was the right name for the apartment house. Azure is such a beautiful color and it's also a type of butterfly; I appreciate the grace and beauty of butterflies."
Becker loves all of her characters. One of them, Francine Fillmore, an animal lover who used her lottery winnings to open Animal Circuit to save the lives of cats and dogs, has a special place in her heart. Becker modeled this lovely woman after her late mother Francine and dedicated the book to her along with the rest of her large group of beloved family and friends.
"The kindness, warmth and joy exuded in the picture of Francine Fillmore surrounded by all of her animals represents an image of unconditional love," Becker said. "It is a true reflection of who my Mom was."
Becker's main goal for her work is to encourage children as well as adults to love reading. She remembers how her mother fostered that love by teaching her how to read at age 2 and taking her to the library with great regularity.
"I wrote the book in a poem-like, rhythmic-style cadence to make it fun for kids to read and also so parents can read it to younger children in the same way for their enjoyment too," she said.
The book contains a larger, positive meaning for its audiences.
"The book is a microcosm of people in the world," she said. "I wanted my book to illustrate that Azure House is a happy place, that life can be joyous and that everybody has issues. We learn to work around our issues and create happy and fulfilling lives for ourselves."
Becker is asking those purchasing "Azure House" to donate a copy, have a fundraiser or make a financial contribution to Shriners Hospitals for Children on behalf of her father, Sidney Kulek, a Shriner, for the miraculous, life changing work performed at the 22 hospitals in the United States, Canada and Mexico.
Kulek is very proud of his daughter's first work and how she is encouraging readers to learn more about the hospitals.
"I'm reading Lisa's book for the first time and I'm absolutely thrilled," Kulek said. "I've always known that Lisa is a superb writer. Anytime my family needed something written for an advertisement or a book, Lisa would do the writing. I and my Shriner friends are very touched by the fact that my daughter's book is dedicated to Shriners Hospitals for Children."
"Azure House" is available for purchase on Amazon.
For more information about Lisa J. Becker, visit her website:http://lisajbecker.com/
About Lisa J. Becker:
Lisa J. Becker is a native New Yorker, born in Brooklyn but raised across the country. She moved with her three siblings and parents every three years for her father's work assignments. She has lived in Maryland, Pennsylvania, Washington, Hawaii, California, Texas and Illinois.
Lisa has been writing poems and stories for her entire life; it is her passion and heart's desire to tell stories that stir the imaginations of children and encourage a desire to read for the shear adventure each new book holds. While dreaming of being a published author, Lisa has had diverse work experience throughout her adult life as a waitress, a certified medical assistant, an examinations coordinator, a school secretary and then thirty years in finance - climbing the ranks from secretary to Vice President.
Lisa is married and lives with her husband, Mark, and their dog, Taffy, in Buffalo Grove, Illinois.