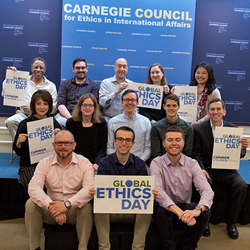 How will you participate in Global Ethics Day this October? Join us. Together, let's work to make ethics matter.
(PRWEB) June 07, 2018
To celebrate the fifth Global Ethics Day on October 17, 2018, Carnegie Council for Ethics in International Affairs has launched a new website especially for this annual event: globalethicsday.org.
Global Ethics Day is a global teach-in and an opportunity for institutions to explore the role of ethics in a globalized world.
Go to the new website's resources page to get ideas, links to background materials, and to download Global Ethics Day posters and logos.
For inspiration, have a look at Global Ethics Day photos and blog posts from 2017 and 2016.
"In 2017, people in 31 countries took part in Global Ethics Day, including many educational institutions and business groups," said Carnegie Council Communications Director Madeleine Lynn. "We've been amazed by the variety, substance, and creativity of the events, from lectures and debates to tree-planting. Students also created videos and posters and nearly everyone shared their experiences on social media. We encourage anyone who's planning an activity to to contact us via the website and share ideas and photos there."
ABOUT CARNEGIE COUNCIL
Founded by Andrew Carnegie in 1914, Carnegie Council for Ethics in International Affairs is an educational, nonprofit, nonpartisan organization that produces lectures, publications, and multimedia materials on the ethical challenges of living in a globalized world. Go to carnegiecouncil.org.