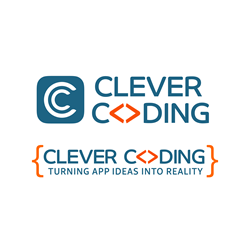 During 2018 we have been evaluating our internal processes, aiming to refine them to support continued growth and provide our clients with the best possible experience from start to finish." - Steve Moon
LEHI, Utah (PRWEB) June 07, 2018
Did you know that in 2012 there were only 57.33 billion apps downloaded? Fast-forward five years and that number has swelled to a whopping 253.91 billion. These staggering numbers demonstrate the importance of app development in the modern age.
The team at Clever Coding is helping to meet the growing demand, and is pleased to announce plans to double down on development services in the second half of 2018. Whether companies are looking for native apps, web apps, websites, or other forms of software development, the Clever Coding team is proud to stand at the forefront of technological innovation and design.
"In 2017 we experienced 200 percent growth as a company. We are working hard to keep the momentum up during 2018. We pride ourselves on being an amazing partner for our clients and strive to provide our clients with a valuable return on their investment. During 2018 we have been evaluating our internal processes, aiming to refine them to support continued growth and provide our clients with the best possible experience from start to finish." - Steve Moon
The digital domain has become nearly as crucial to our every day life as the physical domain. Software, hardware, and apps have become a common part of how people get things done. With smartphone use increasing, app usage is only expected to continue growing. As premier mobile app developers, Clever Coding has spent many years honing their skills in the development field.
Yet, their expertise extends beyond the development phase. For 2018, Clever Coding will continue to expand their offerings in prototyping and UX/UI design, maintenance and support, project rescues, dedicated resources, legacy upgrades, and custom development. Priding themselves on being a one-stop-development-shop, Clever Coding has big expansion plans, expecting to vastly increase in size by 2019. They invite you to come be a part of that expansion and join them in harnessing the power of the digital world.
For more information on how Clever Coding can help you design an app or enhance your web presence, visit their website at http://www.clevercoding.com. To speak with someone about potential synergies or to get started on planning your big app, call (801) 901-0231 or reach out to Melissa (at)clevercoding(dot)com.
About Clever Coding:
Clever Coding stands at the forefront of award-winning mobile and web app development and design. hey work with both Android and Apple operating systems. With a team of highly-experienced web and mobile app developers on the team, they have what it takes to turn an app idea into a well-executed reality. For more information, call (801) 901-0231.