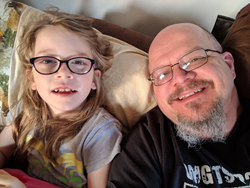 The first time River tried a CBD tincture, her transformation was immediate. She was able to spend the entire day at school, a massive improvement over where we had come from. I believe her incredible improvements were completely due to CBD oil. In our case it was nothing short of liquid gold.
SAN FRANCISCO (PRWEB) June 07, 2018
John Barclay, a Washington State father and former IT engineer, has found himself doing something he never imagined he'd do: growing and cultivating cannabis. Using a pair of LED grow lights donated by Kind LED, he's created a makeshift nursery in his garage in order to supply his 8-year old daughter with a reliable source of CBD oil to help treat her seizures.
In 2014 at the young age of four, John's daughter River—affectionately known as "Ducky"—was diagnosed with a generalized epileptic disorder. She was suffering from 60-80 Myoclonic seizures every day and weekly Grand Mal seizures, some lasting for several minutes. She quickly began treatment, going through a series of five different medications, but most of them just made River's seizures even worse.
After being removed from an FDA synthesized CBD trial at Mary Bridge Children's Hospital in Tacoma, River's parents decided to utilize the natural form of CBD found in cannabis as the next step in her path to recovery.
"The first time River tried a CBD tincture, her transformation was immediate," explained Barclay. "She was able to spend the entire day at school, and had fewer than five seizures. This was a massive improvement over where we had come from. I honestly believe her incredible improvements were completely due to CBD oil. In our case it was nothing short of liquid gold."
Unfortunately, three years after River's initial diagnosis, things changed. What was initially diagnosed as a generalized epileptic disorder was discovered to be something significantly more serious. River's seizures were actually an early symptom of an incredibly rare pediatric brain disorder called CLN2—a disease in the Batten group of pediatric brain disorders. CLN2 affects the nervous system and typically causes problems with vision, movement, and cognition. It is incredibly rare—only an estimated 20 children per year are born with the disorder in the United States, and it's estimated that approximately 350 American children currently have the disease. Sadly, CLN2 is a terminal disorder, and most children diagnosed with the disease do not live past the age of 10.
With this new diagnosis, John's focus has turned to providing Ducky with the absolute best quality of life possible. But as Barclay began treating his daughter's seizures with CBD oil, he quickly learned that his daughter responded better to certain strains than others, and finding a reliable source of the oil that best helped his daughter was a challenge. He decided to take matters into his own hands, and started to grow cannabis so that he could create his own oil. While setting up the nursery in his garage, Barclay reached out to KIND LED.
"My background is in engineering and technology, and after a little research I came across KIND LED. They seemed to be the industry leader, and their technology impressed me," stated Barclay.
"We are humbled that John reached out to us, and more than happy to provide him with whatever he needs to improve River's quality of life," said Rory Kagan, CEO of Kind LED Grow Lights. "We are blown away by the Barclay family's strength and determination, and we want to do anything we can to help them."
With the help of his new KIND LEDs, Barclay has been able to continually grow strains which have produced high-quality CBD oil, and help River enjoy a quality of life she otherwise wouldn't be able to. She was even able to start attending school.
This is when the Barclay family met yet another hurdle. River's school, like all schools in Washington, refuse to allow medical cannabis on school grounds despite the fact that cannabis is legal both medically and recreationally in Washington State. Parents are not allowed to bring or administer cannabis-derived medication to their children, even under the supervision of a school nurse. Therefore, John is unable to administer the CBD oil that has been making such a difference in River's life, and has had no choice but to remove River from school midway through the day.
As a result, Barclay has made it his quest to change the law with Ducky's Bill (HB 1060 and SB 5290), which would require school districts in Washington State to allow students who meet the nine criteria required to be a medical marijuana user the ability to consume cannabis on school grounds under the supervision of a parent or guardian, provided it is not smoked or otherwise inhaled. The bill has received bipartisan support, sponsored by Brian Blake (D-Aberdeen) and James Walsh (R-Aberdeen), and is currently making its way through the legislature.
Ducky's Bill would help more than 50 children in Washington State, who are currently reliant upon medical marijuana and unable to attend school, get a proper education, socialize with other children, and lead more normal lives.
For more information about John and River Barclay, please visit https://www.kindledgrowlights.com/blogs/news/john-and-river-barclay and contact Washington state officials to show your support for Ducky's bill.
Available online at https://kindledgrowlights.com, and through hundreds of retailers nationwide, KIND LED makes advanced horticulture lighting technology accessible to both professional and recreational growers worldwide.
About KIND LED Grow Lights.
San Francisco based KIND LED Grow Lights is the industry leader for indoor LED grow lights offering cutting-edge LED indoor grow light technology. Revolutionizing the indoor growing industry and founded by age old growers, KIND LED Grow Lights provide the most rewarding results possible for hydroponic and indoor gardens. Quickly becoming the world's top selling grow light, KIND LED received the S.T.A.S.H "Gear of the Year" award in 2014, 2015, 2016 and 2017. For more information or to purchase KIND LED Grow Lights products, please visit https://www.kindledgrowlights.com or search for #KINDLED on social media.