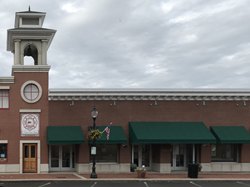 LANCASTER, N.Y. (PRWEB) June 06, 2018
PAC, Performance Advantage Co., has completed an improvement to their headquarters. All offices now reside on the top floor of the building formerly occupied by Murphy's 5&10 in the downtown Village of Lancaster. The lower floor is currently undergoing renovations to add additional manufacturing space from the former office spaces. Completion of the lower floor improvements is scheduled to be completed by late summer.
The new entrance on West Main Street, with awnings and brick sidewalks, adds to the charm of the area. West Main Street continues to be improved by many new businesses moving into the business district. Next door, in the former Carson's Jeweler building, an antique store is set to open soon. Also of note, across the street from PAC, the popular Lilly Belle Meads is expanding.
About the company:
Performance Advantage Company, established in 1992, is a privately-owned company that manufactures and markets high-quality tool-mounting brackets. PAC's primary market is the fire industry, providing specialty tool-mounting solutions for fire apparatus. Other markets include the military, law enforcement, EMS, utilities and the Homeland Security Department. PAC provides adjustable mounts, universal mounts, friction locking brackets, custom tool boards and more. A full list of their products and specifications can be found on their website. Performance Advantage Company is headquartered in Lancaster, N.Y., a suburb of Buffalo, and sells its products directly or through a worldwide network of dealers. Please visit PAC on the web for more information at http://www.pactoolmounts.com or find them on facebook.