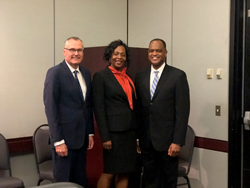 These graduates showed us the power of hard work, dedication, and what they can accomplish with a flexible, personalized online education. We wish them all the best as they enter this next chapter.
DULUTH, Ga. (PRWEB) June 07, 2018
Georgia Connections Academy (GACA), a tuition-free virtual public charter school, celebrated the accomplishments of over 350 seniors at its high school graduation ceremony last week at the Infinite Energy Center in Duluth, GA. Graduates traveled from across the state to walk the stage and receive their diplomas with their fellow classmates.
Special guest Lt. Governor Casey Cagle delivered the ceremony's keynote address. "Each of you will be able to define yourself and how you pursue success," he said. "You will have to shape your own path. But along the way, I encourage you to value opportunity over complacency. To let good things happen to you by taking advantage of opportunities and working hard. And to persevere and challenge yourself to reach new heights."
A longtime public education and charter school advocate, Cagle has served as Georgia's 11th Lieutenant Governor since 2006 and is currently seeking the Republication nomination in the 2018 Georgia gubernatorial race. During his time as Lt. Governor, Cagle has launched the Georgia College and Career Academy Network, and has been honored by the National Alliance for Public Charter Schools with the Champion for Charters Award.
The accomplished Class of 2018 has earned over 2 million dollars in scholarship awards to date, with many state scholarships still being awarded. Georgia Connections Academy graduates will go on to established universities including Clemson University, Kennesaw State University, Albany State University, Savannah College of Art and Design, University of Georgia, Augusta State University, Point University, and more.
Cagle was also able to meet with several GACA graduates including:

Valedictorian Joseph Pafumy, who amassed 90 college credits through dual enrollment with the University of West Georgia. Joseph is heading to the University of Georgia.
Salutatorian Raenah Frishe, who excelled with GACA's flexible education option and graduated early from the school. Raenah heads to Georgia Tech this fall.
Chance Simpson, who used GACA to excel at his own rapid pace and graduated at the age of thirteen. Chance will head to Point University to major in Science and Public Health. The teen was also able to earn a second-degree black belt during his time at virtual school.
"We are very proud of our graduates and their achievements, and we were extremely honored to have Lt. Governor Casey Cagle join us in recognizing these students," said Executive Director Heather Robinson. "These graduates showed us the power of hard work, dedication, and what they can accomplish with a flexible, personalized online education. We wish them all the best as they enter this next chapter."
Georgia Connections Academy combines Georgia-certified teachers, an award-winning curriculum, technology tools, engaging electives, and social experiences to create a supportive and successful online learning program for families and students who want an individualized approach to education.
Enrollment for the 2018-19 school year is currently open, and free in-person and online information sessions are available for families interested in learning more.
ABOUT GEORGIA CONNECTIONS ACADEMY
Georgia Connections Academy (GACA), established in 2011, is a high-quality, tuition-free public virtual charter school for students throughout the state in grades 6-12. Georgia Connections Academy offers families a personalized approach to education with Georgia-certified teachers and an award-winning curriculum that meets state standards. As a virtual charter school, students enjoy the freedom and flexibility of an online education, and are able to access their lessons anytime, anywhere there is an Internet connection. Georgia Connections Academy is authorized by the Georgia Charter Schools Commission, and is accredited by the Southern Association of Colleges & Schools Council on Accreditation and School Improvement (SACS CASI), an accrediting division of AdvancED. The school is headquartered in Duluth at 2763 Meadow Church Rd., Ste 208. For more information, visit the school's website.