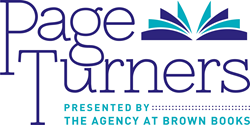 Every story has an author. Every author has a story.
DALLAS (PRWEB) June 07, 2018
The Agency at Brown Books is pleased to announce the launch of its new online series, Page Turners. The series features in-depth author interviews, secrets of the industry, and personal stories.
Emmy Award-winning host Hilary Kennedy conducts these insightful interviews, which are filmed in The Agency's on-site studio. A former host of Eye Opener, a national morning news show, Ms. Kennedy has also appeared on Access Hollywood, Extra, and The Rachael Ray Show. The Agency is proud to have Hilary serve as the face of Page Turners.
This series opens the eyes of readers everywhere to the secrets behind great books and the detailed publishing process. In a time where video content is one of the most successful marketing tools available, Page Turners is a perfect way to connect authors to their readers.
Page Turners and additional video content can be found on The Agency at BB's YouTube channel. New episodes will be posted every other Thursday, and subscribers will also receive clips of upcoming episodes along with first access to new book trailers and "behind the scenes" videos. Writers, readers, and all who are interested in the world of publishing will want to subscribe now!
Subscribe here: http://tiny.cc/5zheuy
About The Agency at Brown Books (ABB)
As a sister company of Brown Books Publishing Group, The Agency at Brown Books is backed by more than 20 years of publishing excellence, leveraged in the first full-service public relations, marketing, branding and distribution provider within a publishing house. The Agency provides high-level public relations, marketing and distribution services for not only Brown Books authors, but also non-affiliated authors, all within the same house. For more information, please visit http://www.TheAgencyatBB.com.