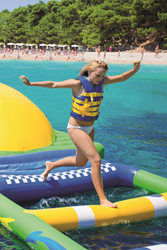 GRAPEVINE, Texas (PRWEB) June 06, 2018
Fort Worth, TX based Vertical LLC., d.b.a. Altitude Trampoline Park has partnered with The City of Grapevine's Parks and Recreation Department for the launch of its new brand of waterparks, Altitude H2O! The experience will be the first of its kind in Grapevine, Texas. Altitude H2O will be open to the public June 9th, 2018.
"We are always discovering new ways to make being outdoors and staying active fun for everyone," says Kevin Mitchell, Director of Grapevine Parks and Recreation. "We're excited for this partnership and can't wait for citizens to enjoy this waterpark. Every addition and amenity we offer helps make our community a happier and healthier place to live and play."
The 25,000 square-foot park will be positioned on Lake Grapevine at 3000 Meadowmere Lane, Grapevine, Texas 76051. The design includes inflatable obstacles, and slides and designated areas for birthday parties, or groups of any size!
"Altitude set the standard in trampoline family entertainment. We are the leader in customer service, cleanliness, safety, and in growth potential as we support all our franchise parks from every angle. We plan to do the same for Altitude H2O." – Curt Skallerup, Altitude- President/CEO.
For additional information on employment opportunities, opening dates, birthday party reservations, and much more, please visit http://www.AltitudeH2O.com and like AltitudeH2O on Facebook at http://www.Facebook.com/altitudeH2O.