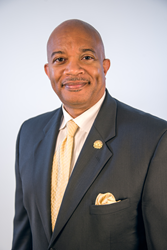 The purpose of this summit is to have a rap session on affordability and understand what it takes to increase homeownership in minority communities. - Shad Bogany
HOUSTON (PRWEB) June 07, 2018
Better Homes and Gardens Real Estate Realtor Shad Bogany will be hosting an affordable housing summit on June 20 at the Buffalo Soldier National Museum, 3816 Caroline Street, Houston, TX.
"The purpose of this summit is to have a rap session on affordability and understand what it takes to increase homeownership in minority communities," said Bogany.
The goal of the summit is to discuss how to create more affordable housing in Houston. "I want to bring stakeholders to the table and have a rap session about how we can move forward and discuss what these barriers are to making Houston affordable, which was once the bastion of affordability for years among large metropolitan areas," noted Bogany.
The effects of "not in my backyard" and how it has stopped affordable housing will also be discussed. "It is important to discuss what the avenues are and why is it so important for the city to continue to be affordable," concluded Bogany.
About Shad Bogany, Better Homes and Gardens Real Estate
Shad Bogany has been a radio talk show host on the real estate industry for the last 28 years on Real Estate Corner, every Tuesday from 6.15 to 7.15 p.m. on KWWJ 1360 or 96.9 FM. He is the past Chairman of the Houston Association, past Chairman of the Texas Association of Realtors, past Chairman of the Houston Area Urban League Community Development Corporation, and past Board Member of the Texas Department of Housing and Community Affairs. He is the current Vice Chair of Fort Bend Housing Finance Corporation, and one of the top local real estate agents in Houston. He provides superior real estate services to buyers and sellers located in and around the greater Houston area. For more information, please call (713) 667-1000, or visit http://www.shadboganyteam.com.
About the NALA™
The NALA offers small and medium-sized businesses effective ways to reach customers through new media. As a single-agency source, the NALA helps businesses flourish in their local community. The NALA's mission is to promote a business' relevant and newsworthy events and achievements, both online and through traditional media. The information and content in this article are not in conjunction with the views of the NALA. For media inquiries, please call 805.650.6121, ext. 361.