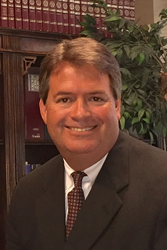 "Ethics provide the underpinnings of all effective compliance programs, so Strategic Radiology will be building on a strong foundation."—John Outlaw, CHC
PALMETTO, Fla. (PRWEB) June 07, 2018
Strategic Radiology has recruited health-care compliance veteran John Outlaw, CHC, to develop a robust compliance program and related resources to mitigate regulatory compliance risk for coalition member radiology practices. As vice president of compliance, Outlaw will develop compliance tools, help member practices implement new compliance programs, and provide strategic direction and oversight to improve the effectiveness of existing programs.
"The health care regulatory environment is increasingly complex, and John Outlaw brings a great depth and breadth of health care compliance expertise to Strategic Radiology," said Arl Van Moore Jr., MD, FACR, chair and chief executive officer, Strategic Radiology. "We are pleased to offer this level of talent to our members."
Most recently, Outlaw was the compliance officer for McKesson Business Performance Solutions' Hospital Affiliated Physicians division, the nation's largest third-party billing company, providing compliance oversight and administration for radiology, pathology, anesthesia, emergency medicine, and EMS billing.
"Our mission in bringing on John is to help our practices put in place compliance best practices and behaviors that will support radiologist and employee compliance through education and communication," said Randal Roat, chief operations officer, SR. "The regulatory environment has become more punitive, increasing the level of risk for all health care providers."
In joining SR, Outlaw returns to the private practice setting where he spent eight years in pathology, developing and implementing corporate compliance programs for Pathology Service Associates, a large third-party billing company, as VP, regulatory affairs and CCO. "I am excited to be back working directly with physician practices on the front lines of patient care," Outlaw said. "Ethics provide the underpinnings of all effective compliance programs, so Strategic Radiology will be building on a strong foundation."
-
About Strategic Radiology
Strategic Radiology is a coalition of 23 private radiology practices, representing more than 1,100 radiologists. The coalition's goal is to achieve higher quality patient care and more cost-efficient delivery of medical imaging through an integrated approach of shared data and best practices, interchanging clinical expertise, and consolidating certain practice expenses. It operates the nation's only radiology-focused Patient Safety Organization listed by the Agency for Healthcare Research and Quality. http://www.StrategicRadiology.org.
SR Core Members:

Austin Radiological Association; Austin, TX
Central Illinois Radiological Associates; Peoria, IL
Diversified Radiology; Denver, CO
Huron Valley Radiology; Ann Arbor, MI
Inland Imaging; Spokane, Washington State
Mountain Medical Physician Specialists; Salt Lake City, UT
Northwest Radiology; Indianapolis, IN
Quantum Radiology; Atlanta, GA
Radiant Imaging, Inc.; Pasadena, CA including The Hill Medical Corporation
and Arcadia Radiology Medical Group divisions

Radiology Associates of North Texas; Dallas/Fort Worth, TX
Radiology Ltd.; Tucson, AZ
University Radiology; East Brunswick, NJ
SR Affiliate Members:

Casper Medical Imaging and Outpatient Radiology; Casper, WY
Medical Center Radiology Group; Orlando, FL
Minneapolis Radiology Associates; Minneapolis, MN
Modesto Radiological Medical Group (MRMG); Modesto, CA
Radiologic Medical Services; Iowa City, IA
Radiology Associates; Jeffersonville, IN
Radiology Associates, PA; Little Rock, AR
Rome Radiology Group; Rome, GA
Southeast Radiology, Ltd.; Glen Mills, PA
Tower Imaging; Santa Monica, CA
X-Ray Consultants; South Bend, IN