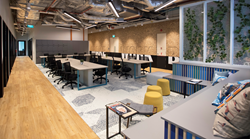 "These spaces provide Verizon with a 'front porch' on which to demonstrate their own R&D and cutting edge technology directly to the tech community, sharing them with people and companies that are doing interesting work." - Melissa Marsh, Founder and CEO of PLASTARC
SINGAPORE (PRWEB) June 12, 2018
Verizon recently announced the opening of the Verizon Innovation Community Managed by JustCo. The new space, an initiative with Singapore-based community management firm JustCo, is part of the Powered by Verizon Platform. This platform is based on a collaboration between Verizon and PLASTARC, a New York-based workplace strategy consultancy.
Verizon is one of the largest real estate holders in the world with over 100 million square feet of space. As advances in technology have decreased the size of equipment, some of this space is no longer needed. In 2015, Verizon began partnering with U.S. coworking operators to convert underutilized spaces into innovation spaces for startups and select Verizon groups.
Large, established companies like Verizon may have much to gain from experimenting with the flexible space and workplace practices more common to startups. When companies pool common resources like conference rooms, presentation space, and amenities, they create opportunities for the free flow of information and ideas that can spur innovation. Verizon is sharing their space with a range of technology partners, fostering closer collaboration on the products and services they deliver together.
Nick LiVigne, who leads the initiative for Verizon as Manager of Workplace Transformation, believes the new innovation spaces are good for Verizon's core business, saying, "It's a way to push boundaries of our business and our people. Flexible work spaces are well-known to have a rich mixture of resources for innovation, and this initiative allows us to position our business within these innovation networks."
In directly supporting its own startup-friendly spaces, Verizon saw an opportunity to extend their brand within the technology community. Young companies in these Innovation Communities stand to benefit from Verizon's global reach and technology platforms. Verizon, in return, gets direct access to fresh ideas and great talent. Leading tech firms like DropBox are already hosting events in the new Singapore space.
Since 2015, Verizon has engaged PLASTARC to study the feasibility and potential benefits of expanding this model internationally. Drawing on their expertise in flexible workspaces and the global next-gen workforce, PLASTARC supported Verizon's discovery of strategic benefits a flexible workspace model offered to the company—even beyond the expected real estate cost savings.
Melissa Marsh, Founder and Executive Director of PLASTARC, highlighted some of these benefits in more detail; "These spaces provide Verizon with a 'front porch' on which to demonstrate their own R&D and cutting edge technology directly to the tech community, sharing them with people and companies that are doing interesting work." She continued, "The Innovation Communities also support incubation of next-gen partners or investment opportunities."
This month's opening is the culmination of a year-long effort. PLASTARC developed criteria to guide the selection of a local operating partner and evaluate the health of the community going forward. By tracking and analyzing metrics like the industries represented by event attendees, they can ensure that the space hosts an optimal mix of the media and tech innovators Verizon seeks. Varis Niwatsakul and Jonah Bleckner, who both worked on the project for PLASTARC, incorporated multiple data points to build the initial business case for the project.
Before their work on this project, PLASTARC advised Verizon on the future of technology in their own workplace, initiating a number of projects to improve the experience offered to employees.
Singapore joins a growing list of locations that already host Verizon innovation spaces, including London, Boston, Washington D.C., and New York.