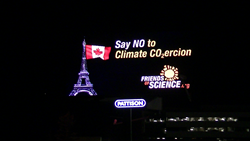 (IPCC model) methods violated 72 of the 89 relevant forecasting principles in the Principles of Forecasting handbook. Even a single violation could render a forecast useless.
CALGARY, Canada (PRWEB) June 07, 2018
While Montreal's Grand Prix kicks off this weekend, as reported by BBC Sport on June 4th, 2018, at the same time G7 leaders arrive for their climate change and trade talks says Friends of Science. On June 5, 2018, BBC World News headlines read "Tariffs and Trump – could be awkward" for the G7 confab in Charlevoix, Quebec. Both parties will be greeted by Friends of Science Society's new controversial climate change video billboard campaign running on the corner of the popular St. Catherine and Drummond café district of Montreal.
The Friends of Science messages in the cycling videos say: "CO2 is not a control knob that can fine tune climate," "Say No to Climate CO2 Coercion." Another set features the themes "Climate change – is it you, is it really CO2? Or is it the Sun?" and "Science is about inquiry, not compliance."
In a June 1, 2018 blog post on Watts Up With That, entitled "Is the World Becoming Dangerously Warmer?" Prof. J. Scott Armstrong of the prestigious Wharton School, University of Pennsylvania, points out the failures of climate change models (computer simulations) to meet the scientifically rigorous principles of forecasting. These models project future global warming and are used by governments to set climate policies.
According to a 2007 study by Armstrong and colleague Dr. Kesten Green of the University of South Australia, they "...concluded that their (IPCC model) methods violated 72 of the 89 relevant forecasting principles in the Principles of Forecasting handbook. Even a single violation could render a forecast useless." Armstrong states that the claim of a precautionary principle for 'immediate action' on climate change is political, and not scientific.
Friends of Science Society points out that while Canada loves to claim the podium as a climate leader, hosting the annual bevy of jet-setters at the fossil-fuelled Formula-1 races is not really in keeping with the 2 degree C target the Canadian governments is demanding of taxpaying citizens.
And while the BBC report of June 5, 2018 addresses recent tariffs imposed by the Trump administration, by contrast, no other nation seems to understand that the 2-degree C regulations on investees, unilaterally imposed by France in Oct. 2016, are of themselves a kind of tariff; certainly a trade barrier.
Canada has been struggling to move forward in NAFTA negotiations with little success, but in the world of shifting geopolitics, signed a climate change and culture deal with France on April 16, 2018, as announced by the Office of the Prime Minister. The deal features a 1.5 degree C target for greenhouse gas reduction goals, but few other details are available.
According to Finance Canada, more than 200 major Canadian corporations have headquarters in France.
Robert Lyman, Ottawa energy policy consultant, former public servant of 27 years and former diplomat for 10 years, contributed a blog post published Oct. 12, 2017, entitled "NAFTA and the Environment – Strange Brew." In it, he noted that Canada has persisted in trying to include climate change in NAFTA, contrary to the Trump Administration's position which has left the Paris Agreement and effectively turned back all Obama-era climate policies.
LINK: http://blog.friendsofscience.org/2017/10/12/nafta-and-the-environment-strange-brew/
Friends of Science Society says current climate change policies are destructive to the Canadian economy and the targets are unattainable. Canada is a vast country of extreme weather, thus heavily reliant on fossil fuels for survival and general operations, as well as being a major resource provider to the world.
About
Friends of Science Society is an independent group of earth, atmospheric and solar scientists, engineers, and citizens who are celebrating its 16th year of offering climate science insights. After a thorough review of a broad spectrum of literature on climate change, Friends of Science Society has concluded that the sun is the main driver of climate change, not carbon dioxide (CO2).
Friends of Science Society
P.O. Box 23167, Mission P.O.
Calgary, Alberta
Canada T2S 3B1
Toll-free Telephone: 1-888-789-9597
Web: friendsofscience.org
E-mail: contact(at)friendsofscience(dot)org
Web: climatechange101.ca