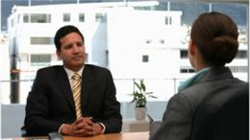 Nearly half (48%) of currently employed women surveyed in the U.S. reported that they had experienced an unwelcome sexual advance
ENCINO, Calif. (PRWEB) June 07, 2018
Employers from all across the globe need to take 'workplace harassment' seriously and address the impact on its employees, productivity and overall business. Delaying implementing an effective harassment prevention policy and training can cost companies financially with costly lawsuits, their reputation, corporate image, and can also result in employee dissatisfaction, employee turnover, and lower overall productivity.
"Regardless of company size, we recommend sexual harassment training for all employees. Just ask any employer blindsided by a workplace harassment lawsuit—the financial costs are enormous, not to mention the damage to a company's reputation, employee morale and productivity," said Myron Curry Business Training Media's President and Founder.
"Employers can be held liable for any sexual harassment incident that occurs in the workplace including company sponsored events and functions. However, if they take reasonable care to prevent and correct harassment, they can reduce their risk dramatically" Curry added.
In a dramatic step to help employers create a safe workplace and improve professional relations among their teams, Business Training Media has put together a library of over 200 sexual harassment video training programs to help train employees and managers. These programs also deal with many subjects that go beyond sexual harassment to include:

According to a new NBC/Wall Street Journal poll, "nearly half (48%) of currently employed women surveyed in the U.S. reported that they had experienced an unwelcome sexual advance or verbal or physical harassment at work."
While elaborating more on workplace sexual harassment issues at the launch, one of the officials stated, "We at Business Training Media believe that employers who continuously provide harassment prevention training for their employees will greatly reduce legal exposure. It is better to be prepared than be sorry."
Business Training Media's sexual harassment training programs are available on multiple formats including DVD, video streaming, e-Learning, digital downloads and webinars-on-demand. The company also provides free online video previews of most of their programs.
The company's sexual harassment training programs can be viewed here: https://www.businesstrainingmedia.com/sexualharassment.php
About Business Training Media
Over the past two decades, Business Training Media has established itself as a leading provider of high-quality video-based employee training programs for businesses, healthcare providers, schools, colleges, non-profits and government agencies. The company has over 5,000 training videos, webinars, downloads and online courses on a wide range of subjects. The company is proud to have provided training solutions to more than 30,000 clients around the world including high profile clients such as Wal-Mart, IBM, American Express, FedEx, Amazon, AT&T, American Honda, the U.S. Army and many others.