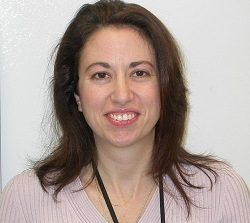 CYPRESS, Calif. (PRWEB) June 07, 2018
Dr. Pamela Wirth, Department Chair, Science, in Trident University International's (Trident) University College, has published research on the value of assessment in proprietary education in the Online Journal of Distance Education and e-Learning,
Her paper, "Assessment in Proprietary Institutions: Historical Trends, Current Practices and the Future," examines the historical impact of institutional assessment in proprietary education and the value of assessment as both a marketing tool and tracking mechanism to support proprietary college student success.
Dr. Wirth has served as Department Chair, Science, in Trident's University College since 2016 and has over a decade of experience in online instruction and has a passion for mentoring students and faculty. Prior to joining Trident, Dr. Wirth enjoyed a diversified career that included teaching (both on-ground and online), scientific research, and working in the corporate sector.
Her professional background consists of academic and leadership roles in pathological research and clinical diagnostics as a scientist, teacher, and mentor. She enjoys investigating ways technology can be used to enhance critical thinking, collaboration and real-world applications. Her areas of expertise include distance learning, adult education, course development, and science and health-related instruction.
Dr. Wirth holds a Ph.D. in Health Sciences, with a concentration in Clinical Laboratory Sciences, from Virginia Commonwealth University. She earned a Master's in Biology from Northeastern Illinois University and a Bachelor's in Biology from Virginia Tech in Blacksburg, VA. She holds an additional graduate credential in Instructional Design from the University of Wisconsin - Stout.
About Trident University
Founded in 1998, Trident University International (Trident) is a leading online postsecondary university serving adult learners. Trident uses the EdActive™ learning approach, which employs case-based learning in an online setting to teach real-world relevant critical thinking skills to enhance the lives and careers of students. Trident offers high-quality bachelor's, master's, and doctoral degree programs and certificates, led by a qualified faculty team, over 80% of whom have doctoral degrees. Trident is regionally accredited by the WASC Senior College and University Commission (WSCUC) and has over 30,000 alumni, including more than 22,000 with a military affiliation. The University has received multiple acknowledgements from Military Times and Military Advanced Education & Transition for their dedication to military-affiliated students. Visit http://www.trident.edu, Trident's Facebook page, or call at (855) 290-0290 to learn more about Trident's wide range of educational options.