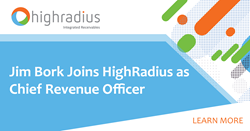 HOUSTON (PRWEB) June 07, 2018
HighRadius, a fintech enterprise Software-as-a-Service (SaaS) company specializing in integrated receivables, today announced that Jim Bork has joined the leadership team as Chief Revenue Officer. Previously VP of Sales and Vertical Lead, Retail, at NetSuite, and Sr. VP of Worldwide Sales at Epicor, Bork brings years of experience running enterprise B2B sales teams selling to finance organizations in companies of all sizes.
On the heels of the hiring of Sayid Shabeer as Chief Product Officer, Bork's bolsters HighRadius' senior management team of experienced fintech and SaaS-experienced executives. "The next phase of HighRadius growth will be about building on our existing momentum in existing markets, but also accelerating our global expansion," said Sashi Narahari, CEO of HighRadius. "With a proven history of building world class sales, Jim's experience and leadership will help guide us through our next phase of growth."
"With a proven history of building world class sales, Jim will accelerate HighRadius' growth plans in the coming years," said Narahari. "We are incredibly pleased to have him join our team with his ability to think strategically and guide sales through the scaling process." At Epicor, Bork helped the company navigate from private to publicly traded, managing a sales team of 400 individuals in 40 countries. His specialty includes building revenue generating teams for enterprises focused on deploying technology to improve business and finance operations.
"HighRadius is redefining the receivables automation space with the integrated receivables SaaS platform," said Bork. "In joining the executive culture at HighRadius, I am delighted to be part of a growing team that is dedicated to transforming global sales efforts across all markets."
About HighRadius Corporation
HighRadius is a Fintech enterprise Software-as-a-Service (SaaS) company. The HighRadius™ Integrated Receivables platform optimizes cash flow through automation of receivables and payments processes across credit, collections, cash application, deductions, electronic billing and payment processing. Powered by the Rivana™ Artificial Intelligence Engine and Freda™ Virtual Assistant for Credit-to-Cash, HighRadius Integrated Receivables enables teams to leverage machine learning for accurate decision making and future outcomes. The radiusOne™ B2B payment network allows suppliers to digitally connect with buyers, closing the loop from supplier receivable processes to buyer payable processes. HighRadius solutions have a proven track record of optimizing cash flow, reducing days sales outstanding (DSO) and bad debt, and increasing operational efficiency so that companies may achieve strong ROI in just a few months. To learn more, please visit http://www.highradius.com.
Media Contact
Treble
Michael Kellner
highradius(at)treblepr.com