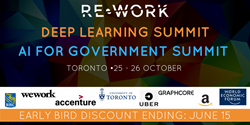 This is a major event! Couldn't miss it. The speaker line-up is impressive and the 2-track format is great for our interests.' Sandra Estrela, Ivado
SAN FRANCISCO (PRWEB) June 07, 2018
Last year's summit brought together the founding fathers of AI, Yoshua Bengio, Yann LeCun and Geoffrey Hinton in their first ever joint panel discussion, and due to popular demand the summit has expanded this year to include a secondary track; the AI for Government Summit. Attendees will have access to both events to maximise the diversity of the agenda and will also be invited to interactive workshops, panel discussions, mentoring sessions and many more activities.
"The Deep Learning Summit always attracts the right mix of top academics, researchers and business leaders. NEXT Canada is thrilled to attend and showcase the NextAI accelerator to the brightest minds in the country." - NEXT.AI, Sponsor
The Deep Learning Summit will cover the latest advancements in deep learning technology from global leaders in the field and explore how industry leaders and startups alike are applying such techniques across industry and society. The first ever AI for Government Summit will provide a unique opportunity to interact with Government Bodies, Policymakers, Strategists and Directors of Innovation to explore the use of machine learning to increase efficiency, reduce costs and meet the high demands of the public sector.
Confirmed speakers across both tracks include:
Geoffrey Hinton, Professor, University of Toronto
Brendon Frey, Co-Founder & CEO, Deep Genomics
Nina Berry, J6 S&T Advisor, Joint Improvised-Threat Defeat Organization (JIDO)
Stanley Osher, Professor of Mathematics & Computer Science, UCLA
William Brendel, Senior Research Scientist, Snap Research
Last year's summit sold out well in advance, so register now to save with the Super Early Bird discount before June 15 to guarantee your place at a reduced price.
Canada is a hot-spot for Artificial Intelligence with the likes of Element AI, Uber AI Labs, and the Vector Institute coming out of the country, and to stay ahead of the race, the Canadian Government have committed over $125 million to AI developments. Alphabet will be starting in Toronto's Smart City Project this summer with the 'world's first neighbourhood built from the internet-up', and the Toronto Tourism Board are also supporting RE•WORK's summit. Partnering with RE•WORK to bring the event to Canada again are both returning sponsors and new additions to the agenda. Having sponsored, spoken and hosted workshops in the past, Sightline Innovation are once again supporting the event:
We wanted to share out experiences with out peers and learn from the diverse speakers and attendees of the event. We've attended previous RE•WORK events and are keen to support the excellent work - we will be sponsoring again as it's a great way to stay connected with new technologies and trends, and we're really excited to return for Toronto 2018.
Additional headline partners include Accenture, Qualcomm, Graphcore AI and CBC/Radio Canada who will all be sharing their expertise in the field, participating in workshops, discussions, presentations, demonstrations and exhibitions.
The two day summit will see over 600 attendees and 60 extraordinary speakers sharing cutting edge research and technologies, and unveiling emerging trends in deep learning. Both industry experts and academics will present challenges and solutions to real-world problems with research methods and business applications, following the opportunity to share your learnings in over 7 hours of networking. RE•WORK's Deep Learning summits are attended by Data Scientists, Data Engineers, Machine Learning Scientists, CTOs, Founders, Director of Engineering, CEOs, Academics and Students. The AI for Government is appropriate for and geared towards Policymakers, Government leaders, Data Scientists & Engineers, Tech Evangelists & CTOs, Founders, Directors of Innovation, Business Executives & Decision Makers.
Don't miss out:
Super Early Bird tickets are available until Friday 15 June, and there are limited spaces left. Register now: Deep Learning Summit and AI for Government Summit.
Can't make it to Toronto?
You can register for post-event access to receive the slides, presentation videos and interviews from the summit. Summit attendees will also gain access. Alternatively you can join us at our upcoming events in San Francisco this June 28 - 29 or in London this September 20 - 21.
Get in touch:
Media enquiries: Yazmin, yhow(at)re-work.co
Ticket queries & event info: John, john(at)re-work.co
About RE•WORK
RE•WORK is a female-led run events organising company that brings together breakthrough technology, cutting-edge science and entrepreneurship shaping the future of business and society. We showcase the opportunities of exponentially accelerating technologies to positively disrupt industry and society.