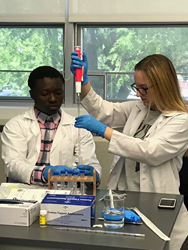 BRIDGEPORT, Conn. (PRWEB) June 08, 2018
The arrival of June may kick-start vacation or summer jobs for many students, but the turn of the calendar this month means it's finally time for two University of Bridgeport (UB) students to send their research project to the International Space Station aboard a SpaceX spacecraft.
Last fall, UB biology majors Feissal Djoule, of West Haven, CT, and Emily Juliano, of Shelton, CT, competed to take part in the Student Spaceflight Experiments Program, an initiative of the National Center for Earth and Space Science Education (NCESSE) to support student-proposed research conducted in a low-gravity environment aboard the International Space Station.
In January this year, Djoule and Juliano learned that their project, one of more than 1,959 proposals that had been submitted to the NCESSE for consideration, had been selected for the prestigious program.
Now, at 5:41 a.m. on Friday, June 29, 2018, a Falcon 9 rocket designed and manufactured by SpaceX will blast off from Cape Canaveral, Florida, to the International Space Station, carrying the UB students' project, formally titled "The Effect of Microgravity on Nanoparticle-Cellular Interaction."
Djoule and Juliano are being advised by Dr. Isaac G. Macwan, a research associate at UB's Department of Biomedical Engineering.
The research focuses on changes in cellular proteins in order to increase understanding of questions that have been asked possibly since the beginning of space exploration: What are the effects of space flight on human health? How does it affect the body's biological processes? Can anything be done to ameliorate potential damage?
It's already known that astronauts experience physiological changes in microgravity, "such as bone demineralization, vestibular problems causing space motion sickness, cardiovascular problems, and reduction in plasma volume and red cell mass," says Macwan. "If we can capture an image of the cellular process that's changing in space and analyze it, we can make a comparison to what happens on earth and can further monitor the changes to eventually repair or prevent them from happening in the first place."
To make the comparison, astronauts will simultaneously conduct Djoule's and Juliano's research project aboard the Space Station while the two students do the same at one of UB's labs. More specifically, both groups will combine mammalian cells with graphene carbon dots, minuscule carbon particles that are no bigger than five to seven nanometers in size. If all goes as expected, the carbon will begin to mark proteins in the cells. That, in turn, will create a mechanism for researchers to observe cellular changes and other processes, such as delivery of drugs into cells.
"It's what they call the ground truth experiment; whatever they are doing in space, we are replicating here on earth in the lab," Macwan said. "Once our project arrives at the Space Station, they will take it aboard and mix mammalian cells with the graphene quantum dots. That's when we'll open identical samples of cells and carbon to see the effect of gravity."
The experiment is expected to run for two to three weeks. Funding for some of the research was awarded to UB from the Connecticut Space Grant Consortium.
The Student Spaceflight Experiments Program is a program of the National Center for Earth and Space Science Education in the U.S. and the Arthur C. Clarke Institute for Space Education internationally. It is enabled through a strategic partnership with DreamUp PBC and NanoRacks LLC, which are working with NASA under a Space Act Agreement as part of the utilization of the International Space Station as a National Laboratory.
About University of Bridgeport
The University of Bridgeport offers career-oriented undergraduate, graduate and professional degrees and award-winning academic programs in a culturally diverse learning environment that prepares graduates for leadership in an increasingly interconnected world. There are 400 full- and part-time faculty members, including Fulbright Scholars, National Science Foundation Fellows, Ford Fellows, and National Endowment for the Humanities Fellows, American Council for Learned Societies Scholars, and Phi Beta Kappa Scholars. The University is independent and non-sectarian. For more information, please visit http://www.bridgeport.edu.