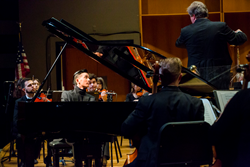 FAIRBANKS, Alaska (PRWEB) June 07, 2018
KaJeng Wong of Hong Kong earned first prize in this year's International Piano-e-Competition, capturing the top prize of $30,000 in the global event held at the University of Alaska Fairbanks between May 19 through May 31.
Timur Mustakimov of Russia was awarded second prize at the competition, earning $20,000, while Su Yeon Kim of South Korea earned third prize, taking home $10,000.
In addition to these prizes, Timur Mustakimov was awarded the Schubert Prize for the best performance of a Schubert sonata in the Second Round, and KaJeng Wong was presented with the Chamber Music Prize for the best performance of a Trio in the semifinals.
Since its inception in 2002, the International Piano-e-Competition has been held 11 times, highlighting many wonderful performers, many of whom are making important contributions to the world of classical piano performance and education.
What makes the competition unique is that it enables artists from around the world to record and transmit their audition performances over the internet through the use of a Yamaha Disklavier, the world's most technologically advanced piano. This remarkable instrument is capable of capturing performances as high resolution Musical Instrument Digital Interface (MIDI) data, which are then recreated on other remote Disklavier pianos located anywhere in the world with each note and nuance delivered faithfully and precisely as the artist intended.
Competition applicants participated in invitation-only screened auditions held earlier this year in Hamamatsu, Japan; Shanghai, China; Paris, France; Los Angeles, California and New York City, which captured video of their performances, as well as MIDI performances on Yamaha Disklavier concert pianos.
These "virtual audition" recordings were then recreated in Davis Concert Hall, University of Alaska Fairbanks, and the final contestants were announced this past March.
During the competition, contestants performed in Davis Concert Hall played on a Yamaha DCFX Disklavier which streamed data to other connected Disklaviers around the world, including for the first time to China. These remote instruments reproduced the performances in real time, for viewers in concert halls and living rooms alike to enjoy the precise keystrokes and pedal technique of each musician. Finally, a live webcast of the performance with the data stream was broadcast, so that audiences were able to watch the performance remotely, with or without a connected Disklavier.
For more information, please visit http://www.piano-e-competition.com or https://epianoalaska.com
-END-
About Yamaha
Yamaha Corporation of America (YCA) is one of the largest subsidiaries of Yamaha Corporation, Japan and offers a full line of award-winning musical instruments, sound reinforcement, commercial installation and home entertainment products to the U.S. market. Products include: Yamaha acoustic, digital and hybrid pianos, portable keyboards, guitars, acoustic and electronic drums, band and orchestral instruments, marching percussion products, synthesizers, professional digital and analog audio equipment, Steinberg recording products and NEXO commercial audio products, as well as AV receivers, amplifiers, MusicCast wireless multiroom audio systems, Blu-ray/CD players, earphones, headphones, home-theater-in-a-box systems, sound bars and its exclusive line of Digital Sound Projectors. YCA markets innovative, finely crafted technology and entertainment products and musical instruments targeted to the hobbyist, education, worship, music, professional audio installation and consumer markets.