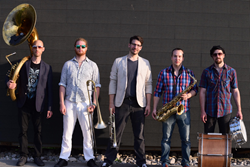 TORONTO (PRWEB) June 08, 2018
The Heavyweights kick off their This City Summer Tour 2018 with a special live to air concert June 16th 2:30 pm during Kodi Hutchinson's A Time for Jazz on the CKUA Network across Alberta. The band recently released their highly anticipated third full-length album. The Heavyweights took a pilgrimage to the city that has inspired them since their inception. Recorded in New Orleans, the cradle of jazz, with a second-line of special guests from groups such as Preservation Hall Jazz Band, Dirty Dozen Brass Band, Trumpet Mafia and many more, the Heavyweights bring a fresh, energetic take on a deeply grounded tradition.
Inspired by the New Orleans brass band tradition, the Heavyweights' original stance keeps one foot firmly rooted in the rich legacy of jazz, while one foot steps forward into the future. Like the music's originators, the Heavyweights are unafraid to incorporate influences from disparate areas of the musical spectrum, from pop hits of the day to original compositions, from R&B and funk throwbacks to the infectious rhythms of Latin America, all woven together with the thread of adventuresome sophistication.
The uppercut ascent of the Heavyweights' arc has been the result of relentless dedication. Touring across Canada and sharing the stage with such influential groups as The Roots, Trombone Shorty, Galactic and Hypnotic Brass Ensemble has helped build the group a loyal following.
This City Summer Tour 2018 Dates:
June 16 - Calgary, AB @ Calgary JAZZYYC Ironwood Stage & Grill
June 18 - Winnipeg MB @ Jazz Winnipeg The Cube Old Market Square
June 20 - Medicine Hat, AB @ Medicine Hat Jazz Festival The Esplanade Main Theatre
June 21 - Moose Jaw, SK @ Moose Jaw Cultural Centre
June 22 - Edmonton AB @ Edmonton International Jazz Festival Varscona Theatre
June 25 - Toronto, ON @ Toronto Jazz Festival OLG Stage on Cumberland
June 27 - Ottawa, ON @ Ottawa Jazz Festival Marion Dewer Plaza
June 28-29 - Montréal, QC @ Montreal Jazz Festival Club Jazz Casino de Montréal,
June 30 - Bancroft, ON @ A Place for the Arts
July 7-8 - Orillia ON @ Mariposa Folk Festival Tudhope Park
"This City" is available from Slammin Media and distributed World Wide by Believe Distribution. The Heavyweights Brass Band would like to acknowledge and thank Canada Council, TD Jazz and Lula World for all of their support.
For more information on The Heavyweights Brass Band please visit http://www.heavyweightsbrassband.com