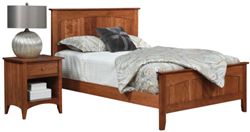 The Marshfield Shaker Bedroom Collection confirms the axiom, simplicity is the ultimate sophistication.
SHIPSHEWANA (PRWEB) June 12, 2018
Furniture lovers looking for a bedroom set that commands attention with its simple elegance will be drawn to the Marshfield Shaker Bedroom Collection from Weaver Furniture Sales of Shipshewana, Indiana. The collection includes a bed, dresser, chest and nightstand.
The Shaker style takes its name from the 18th Century Shaker sect, whose members initially made furniture to accommodate large worship gatherings. Shaker craftsmen built furniture that reflected their ethic of simplicity, practicality and integrity. So, Shakers built furniture devoid of 'prideful' elements like inlays, carvings, metal pulls or veneers. And this explains elements like tapered legs, arched base and flush panel drawers found in the Marshfield Shaker line.
A number of strength and comfort enhancing features are built into each item in the collection. For example, each drawer is built with dovetail joints for added strength and durability. Also, the drawers open full extension so you can enjoy easy access to every corner of each drawer. What's more, the optional under-mount drawer slide enables owners to close the drawers with a gentle push. They make closing the drawer as simple as giving it a gentle push. In addition, clients can order the bedroom set in their choice of wood species. Choices include oak, maple, cherry and hickory.
The Marshfield Shaker Bed features three reversed panels that create a gentle arch. Select the bed in king, queen, full or twin-bed sizes. The bed is available with optional drawers in the footboard or side rails.
With its flush drawer fronts, arch base, tapered legs and large mirror, the Marshfield Shaker Dresser emits a stately vibe. In addition, clients can select from a variety of drawer configurations, thereby fulfilling their needs and desires.
For the past three decades, furniture-enthusiasts have been traveling to Weaver Furniture Sales in search of fine Amish furniture. Now the Marshfield Shaker Bedroom Collection gives furniture lovers an additional incentive to visit Weaver Furniture.
About Weaver Furniture Sales:
Weaver Furniture Sales was established in 1989 in Shipshewana, Indiana. An Amish, family-owned furniture business, Weaver offers a full line of solid wood, Amish furniture at affordable prices. And Weaver caters to both residential and commercial customers. The company features Shaker, Mission and Traditional styles. As part of their client services, Weaver provides furniture design consultation services, custom furniture options, furniture quotes, layaway options and various delivery alternatives for residences and businesses in the United States.
LeRoy and Ida Weaver own and operate Weaver Furniture Sales. They began with a 1,500 square foot showroom, which has been expanded to more than 20,000 square feet. Previously, they owned and managed LeWana Dairy Farm, where they milked cows and raised corn and hay.