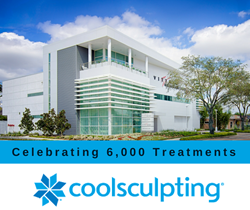 HOUSTON (PRWEB) June 08, 2018
Mirror Mirror Beauty Boutique is excited to announce that the respected medispa has successfully completed more than 6,000 CoolSculpting treatments. Known for patient-centered care, Mirror Mirror Beauty Boutique shows off its unmatched experience with a high volume of CoolSculpting treatments and superior patient satisfaction ratings.
CoolSculpting first appeared on the aesthetic market in 2012, when the noninvasive technique was approved by the Food and Drug Administration. A safe and effective treatment for stubborn, isolated areas of fatty tissue, CoolSculpting can provide dramatic body contouring on almost any area, including the abdomen, flanks, inner and outer thighs, upper arms and chin. Utilizing cutting-edge applicators, each designed to target a specific type of tissue, CoolSculpting offers a 20-25% reduction in fatty tissue. For even more fat reduction, CoolSculpting can be safely repeated, upping the results by another 25%.
No incisions or sutures are needed with CoolSculpting, using the science of Cryoplipolysis to cool the targeted area and 'freeze' away fat cells. Little to no downtime is necessary, meaning patients are quickly back to their normal routines. Results can be seen in two to three months, as the body naturally eliminates the damaged fat cells. Benefits from CoolSculpting are long-lasting, as the fat cells will not return.
With over 6,000 CoolSculpting sessions completed, Mirror Mirror Beauty Boutique is one of Houston's most trusted medispa. All of Mirror Mirror Beauty Boutique's providers are graduates of California's CoolSculpting University, receiving extensive training in all of the noninvasive fat elimination. Mirror Mirror Beauty Boutique is also one of the only local practices to have four CoolSculpting machines. This means at any time, multiple patients can have the benefits of DualSculpting, treating two individual locations at the same time. All sessions are performed in a tranquil, private treatment room. With complimentary Netflix and Wi-Fi, CoolSculpting patients can comfortably relax during their 35-minute treatment session.
ABOUT MIRROR MIRROR BEAUTY BOUTIQUE
Founded by renowned Houston cosmetic surgeon, Paul Vitenas, MD, FACS, Mirror Mirror Beauty Boutique opened its doors in 2014. Located on the first floor of the Vitenas Cosmetic Surgery building, at 4208 Richmond Venue, Mirror Mirror offers a full selection of noninvasive techniques and prescription-quality skincare products. Custom treatment plans can include one or more nonsurgical technique, or be combined with a surgical procedure, reaching optimal results.
To find out if you are a good candidate for CoolSculpting, reach out to Mirror Mirror Beauty Boutique at 281.810.9083 or fill out the online Contact Us form. More information on the nonsurgical fat elimination technique can be found on the official CoolSculpting website.