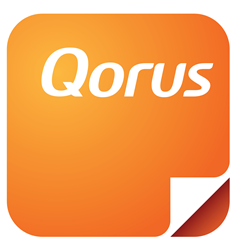 "Qorus is honored to be recognized as a finalist for the Customer Experience Partner of the Year Award from Microsoft," says Qorus CEO, Ray Meiring
BELLEVUE, Wash. (PRWEB) June 08, 2018
Qorus Software recognized as finalist for 2018 Microsoft Customer Experience Partner of the Year Award
Qorus Software today announced it has been named a finalist in the 2018 Microsoft Customer Experience Partner of the Year category. The company was honored among a global field of top Microsoft partners for demonstrating excellence in innovation and implementation of customer solutions based on Microsoft technology.
"Qorus is honored to be recognized as a finalist for the Customer Experience Partner of the Year Award from Microsoft. This is our third consecutive year of receiving recognition in this category, and it is testament to the work our product development and customer experience teams have put in to help businesses embrace digital transformation by creating a connected workplace. Delighting our customers is pillar of our business and is strategic to the future growth," says Qorus CEO, Ray Meiring.
Awards were presented in several categories, with winners chosen from a set of more than 2,600 entrants from 115 countries worldwide. Qorus was recognized for providing outstanding solutions and services in customer experience.
The Customer Experience Partner of the Year award recognizes a partner who demonstrates an exceptional ability to manage customer demand and exceed expectations.
"Our ecosystem of partners is crucial to delivering transformative solutions, and this year's winners have proven to be some of the finest among their peers," said Gavriella Schuster, Corporate Vice President, One Commercial Partner, Microsoft Corporation. "We are pleased to recognize Qorus Software for being selected as finalist of the 2018 Microsoft Customer Experience Partner of the Year Award."
The Microsoft Partner of the Year Awards recognize Microsoft partners that have developed and delivered exceptional Microsoft-based solutions during the past year.
About Qorus
Qorus helps organizations create business critical documents more efficiently and accurately. Our software is incredibly powerful but highly intuitive and very easy to use. Even the most non-technical users can quickly create accurate, personalized and compliant documents like proposals, contracts, RFPs, pitches, and reports. Qorus runs on Microsoft Azure and integrates with Microsoft Office to enhance document productivity. Our award-winning Customer Success team ensures our customers across all industries get the most value from our software. We have offices in Seattle, London and Cape Town.
Learn more about Qorus at https://www.qorusdocs.com/
For additional information:
Michelle Revsbech
SVP of Alliances
mrevsbech@qorusdocs.com