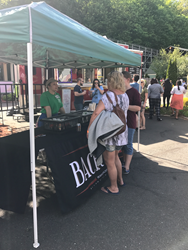 Bristol/Southington, CT (PRWEB) June 08, 2018
On Saturday June 16th, Lake Compounce will be hosting their 2nd annual Craft Beer and Food Truck Festival from 12-7pm. Due to popular demand, the festival is nearly doubling in size this year featuring 12 Connecticut craft breweries and an array of local food trucks and live music.
New this year, guests will have the option of Unlimited Sample Tickets between 12pm and 4pm or to buy individual pints of beer. Unlimited Sample Tickets, which include reduced priced admission to the park, are available on Lake Compounce's website and will be available to purchase onsite as well for $49.99. Season Pass Holders and guests who have already purchased admission tickets for June 16th can also purchase Unlimited Sample Tickets at any ticket booth for $24.99. Food is available for an additional cost.
Breweries include Two Roads, Thomas Hooker, Back East, City Steam, Black Hog, Firefly, Kinsmen, Witch Doctor, Stony Creek, Broad Brook, Half Full, and Olde Burnside. Low & Slow Catering, Poutine Gourmet, and Chompers food trucks will all be in attendance.