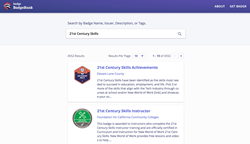 "Using Open Badges, innovators from around the world have worked side-by-side to create a new ecosystem of micro-credentials. BadgeRank now makes that ecosystem searchable." -- Wayne Skipper, Founder and CEO, Concentric Sky
EUGENE, Ore. (PRWEB) June 12, 2018
Concentric Sky today announced the release of BadgeRank.org - a free, public search engine for digital badges. Following closely on the release of the game-changing digital badge stacking tool - Badgr Pathways - BadgeRank offers a simple, user-friendly interface that allows anyone to explore the digital badges published by Open Badges compliant systems around the world.
"The Open Badges standard has revolutionized the way the world thinks about digital credentials, creating a common language with which to describe a broad spectrum of learning achievements," said Wayne Skipper, Founder and CEO of Concentric Sky. "Using this common language, innovators from around the world have worked side-by-side to create a new ecosystem of micro-credentials. BadgeRank now makes that ecosystem searchable."
Powered by a sophisticated ranking algorithm, BadgeRank indexes over 100,000 digital badges from around the world and ranks them based on signals such as Endorsements by external organizations and Outcomes for credential holders. The ability to sort learning achievements based on meaningful signals is essential to building the next generation of credentialing technology.
Concentric Sky will provide an API for organizations wishing to work with ranked badge data and will also make BadgeRank data available to organizations working to understand the rapidly expanding landscape of digital credentials, including Credential Engine.
"With the number of badges growing so quickly, it is imperative that users have access to better information. BadgeRank provides an important tool to capture this data. We look forward to working with Concentric Sky to include badge data in the Credential Registry, " says Scott Cheney, executive director of Credential Engine.
With Badgr Pathways and now BadgeRank, organizations have powerful new tools with which to explore the Open Badges ecosystem, determine credential value, and create truly stackable learning pathways that span institutional boundaries in service of lifelong learner success.
About Concentric Sky
Founded in 2005, Concentric Sky is an award winning software design & development firm located in Eugene, Oregon. The company has successfully launched hundreds of products in its 13 year history for partners including The World Bank, The United Nations, The MacArthur Foundation, Intel, National Geographic, and Encyclopedia Britannica. Badgr and BadgeRank are registered trademarks of Concentric Sky.
For more information about Concentric Sky, visit http://www.concentricsky.com