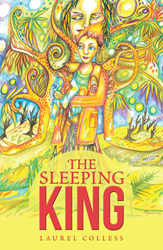 HELSINKI (PRWEB) June 11, 2018
Tales of the past, an heir to the king's throne and the ever-looming threat of climate change all come together to create Laurel Colless' newest children's book, "The Sleeping King."
Legend has it that in centuries past, a great king was laid to rest, leaving a promise to wake again when the world would need him most. Could eleven-year-old Peter Blue be that sleeping king?
When a pesky wizard pulls Peter out of a nap, telling him to wake up and save the world, Peter isn't interested. It's only when a strange clue in his birthday treasure hunt leads him to his dad's Global Advanced Intelligence Agency (GAIA) jacket that Peter starts to change his mind.
Peter Blue's legend-inspired story combines the magic of a child confronting a promise from another lifetime with the realism of climate change.
Kirkus Reviews describes "The Sleeping King" as "a fantasy tale featuring delightful characters that primes readers for an ongoing series."
"Children are the future and are already responsible for so much change happening in our modern world," Colless said. "I believe they are the future of environmental change. It's important to make children aware of climate change and its implications, and I believe my book teaches this in a fun, easy-to-understand way."
"The Sleeping King will really wake you up with this rousing tale of the adventures of young Peter Blue who is destined to galvanize the world to solve the threat of climate change. Charming and fascinating-- it is a gripping tale. I can scarcely wait for his further adventures," said Thomas E. Lovejoy, co-founder of the "NATURE" series on PBS.
"The Sleeping King"
By Laurel Colless
ISBN: 978-1504388641 (softcover); 978-1504388658 (hardcover); 978-1504389105 (electronic)
Available at the Balboa Press Online Bookstore, Amazon and Barnes & Noble
About the author
Through storytelling, Laurel Colless inspires children to take the lead on big world problems like climate change, extreme weather, and plastic pollution. Colless brings a background in environmental business and literature to create a new kind of myth-making that reflects the reality of today's children – separating from nature and from each other. Colless is an Al Gore Climate Reality Leader and founder of the Carbon Busters Club. To learn more about Colless, please visit http://www.carbonbustersclub.org. To learn more about the book, visit http://www.thesleepingking.com.
Contact:
LAVIDGE – Phoenix
Kalin Thomas
480-648-7540
kthomas(at)lavidge(dot)com