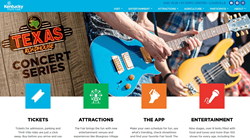 We hope the new mobile-first site redesign will make the Fair experience more enjoyable for all attendees!" - Drake Hatfield, CEO Hatfield Media
(PRWEB) June 11, 2018
Hatfield Media, a custom web design agency in Louisville, recently launched a brand new website for the Kentucky State Fair. KYStateFair.org is the first in a series of new website redesigns for Kentucky Venues. The site underwent a complete top-to-bottom redesign. From aesthetics to page flow to accessibility, the goal was to create a website which serves the needs of thousands of visitors who will visit our State Fair this year. The site was conceived with a clear focus on combining the main elements of the Kentucky State Fair's online presence with improved visual flow, curated content, community engagement, and an engaging user experience. Importantly, the new site is responsible and was conceptualized with a mobile-first approach.
Steve Clark, Lead Web Developer, noted the importance of responsive web design for mobile users. "We wanted a fresh start for the Kentucky State Fair website," said Clark. "Creating a modern, responsive site was important to our team; the goal was an easy-to-use site with a clean user experience." On top of being mobile friendly and quick-loading, the Hatfield Media team looked to create a fun, upbeat vibe. Project Manager Christina Kuo knew that the site would receive visitors of all ages looking to learn more about the State Fair and how to compete and/or attend. "Large, bold text highlights the different pages of the site like a colorful map and the custom backgrounds give it the fun atmosphere that reflects the Fair's."
The new Kentucky State Fair site offers visitors a window in to the excitement of walking through the midway or attending a show. The bright and bold color palette, sharp imagery, and clean design dreamed up by Graphic Designer Morgan Fletcher allows the key info to stand out.
"We wanted to make the site look fun and youthful and the use of the color really helped that," said Fletcher. "I also wanted people to remember going to the fair as a kid and give it that nostalgia that so many people long for. Our main goal is for the website to be easy to navigate for vendors, exhibitors and fair-goers."
"We are honored to have been selected by Kentucky Venues to redesign the Kentucky Stair Fair website. Those of us who are local natives will remember the woes of a non-optimized mobile site, pinch-to-zoom and difficult to navigate concert and event calendars. All of those issues are now fully resolved! We hope the new mobile-first site redesign will make the Fair experience more enjoyable for all attendees!" - Drake Hatfield, CEO Hatfield Media
Contact Hatfield Media for more information on custom web design solutions, SEO, Video Production, Marketing, and Photography.
Hatfield Media is a Louisville-based, full-service creative and digital marketing agency, specializing in custom web design and brand development for businesses. Hatfield Media provides custom Web Design & Development, Digital Marketing,Search Engine Optimization, Custom Graphic/Logo Design and 4K Video Production to clients in high-tech B2B, B2C, consulting, legal, industrial and non-profit industries. Learn more at hatfieldmedia.com or call 502-509-3349.
RELATED LINKS
https://kystatefair.org
https://hatfieldmedia.com
https://hatfieldmedia.com/web-design