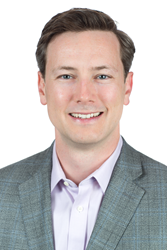 "Once I develop a solid understanding of the ambitions and goals of an individual, I work closely with them to help them navigate challenges and take advantage of opportunities by creating and monitoring a comprehensive plan for their wealth."
ATLANTA (PRWEB) June 12, 2018
SignatureFD is pleased to announce the addition of J. Colin Sturgis, CFP® as an Advisor. In his role, Colin will bring trusted and personalized guidance to high-net-worth individuals and families to help them design their financial futures in order to maximize their impact.
"Once I develop a solid understanding of the ambitions and goals of an individual, I work closely with them to help them navigate challenges and take advantage of opportunities by creating and monitoring a comprehensive plan for their wealth," Sturgis said.
Colin brings fifteen years of wealth management experience to his advisory role at SignatureFD. He began his career in the wealth management division of SunTrust bank and most recently served as a Director at Homrich Berg. He has worked closely with clients and other advisors to implement strategic guidance for high-net-worth individuals and families. He holds a Master of Science in Personal Financial Planning from Georgia State University and a Bachelor of Business Administration in Risk Management from the University of Georgia.
Colin will join SignatureFD's Strategic Partners team and be involved with a number of the firm's various initiatives. With his strong financial planning background, intentional approach, and unrelenting focus on putting clients' interests first, Jeff Peller, Co-Founder and Chief Executive Officer of SignatureFD, believes Sturgis will be a key contributor to the team, as well as an ideal fit for the firm's purpose-driven, values-based culture. "Colin's extensive background establishes him as a reliable member of the SignatureFD team, but it's his dedication to understanding our clients' values and vision that makes him well suited to provide the guidance required to help our clients design their financial futures with intent and impact."
View Colin's complete bio here.
At SignatureFD, we believe that people want to make an impact with their wealth - their time, their money and their relationships. SignatureFD is a purpose-driven financial design company that helps clients design their financial futures to maximize their impact. Founded in 1997, SignatureFD provides comprehensive financial services, decision-support, specialized communities and resources that are delivered with fee transparency and objective, independent advice. For more information, visit: https://www.signaturefd.com/