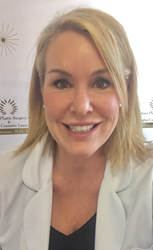 I'm looking forward to once again helping my patients feel great about themselves
DULUTH, Ga. (PRWEB) June 11, 2018
As one of the most awarded cosmetic treatment centers in metro Atlanta, Laser Lights Cosmetic Laser Center is thrilled to announce the addition of a new member of their team: Lynne Van Buul, RN.
Van Buul is a graduate of Georgia State University, Athens Technical Institute, State University of New York's Excelsior College, and Chamberlain College of Nursing, earning degrees in nursing as well as respiratory therapy. To add to her knowledge, she is currently attending South University where she is finishing her Master of Science degree in Nursing, focusing on becoming a nurse practitioner.
While she has most recently been a nurse in the Intensive Care Unit at a Piedmont Healthcare facility, most of Van Buul's career has been spent in cosmetic medicine. "As much as I love the critical care aspect of nursing, I'm looking forward to once again helping my patients feel great about themselves," says Van Buul. As the previous owner of Bella Derma Anti-Aging Clinic until 2015, she has over 15 years of experience performing procedures like Botox® injections, microneedling, platelet-rich plasma treatments, scar revision, and more.
Upon joining the team at Laser Lights Cosmetic Laser Center, Van Buul is offering a wide variety of cosmetic treatments for the face and body. Most notably, she is bringing facial rejuvenation injectables like Botox® and facial filler injections back to Laser Lights, and she has the added benefit of the specialized training from Medical Director Dr. David Whiteman. Dr. Whiteman is the double board-certified plastic surgeon who owns and operates Laser Lights Cosmetic Laser Center as well as his surgical practice, Southern Plastic Surgery. As the Chief of Plastic Surgery at Gwinnett Medical Center, Dr. David Whiteman upholds high standards of exceptional care and patient service at both of his Duluth practices.
"We're absolutely thrilled to have Lynne on board," says Dr. Whiteman. "I'm proud of the medical expertise and family-like atmosphere we already have at Laser Lights, and Lynne will be a fantastic addition to our vision."
About Laser Lights Cosmetic Laser Center
Laser Lights Cosmetic Laser Center is dedicated to raising the self-confidence of its patients through various laser skin treatments, non-surgical cosmetic procedures, and facial treatments, and has been for over 15 years. In 2016, double board-certified plastic surgeon David M. Whiteman, MD, FRCS(c) took over as full owner of Laser Lights to offer patients a more focused customer experience. With multiple unique lasers for every skin type, a wide variety of non-laser skin treatments, and some of the most advanced aesthetic technology available for non-surgical fat reduction, skin tightening, and more, Laser Lights can match each patient with the ideal procedures to meet their needs. Their list of services includes, but is not limited to laser treatments to remove hair, tattoos, blemishes, veins and wrinkles, as well as non-laser treatments for the face and body and medical grade skin care products. Gift certificates are also available, allowing your loved ones to select the perfect treatments for them. Laser Lights Cosmetic Laser Center's goal is to help every patient look and feel their very best, all with a five-star experience. When you step into their offices, you join the family where they strive to foster a personal relationship with each patient to help them achieve their aesthetic goals and be the best they can be from the inside out.
Patients considering non-surgical cosmetic treatments can find more information about Laser Lights Cosmetic Laser Center at http://www.atlaserlights.com.