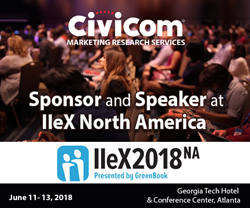 At IIeX NA Civicom will explore how the GDPR and the Facebook Cambridge Analytica hearings combine to influence the future of U.S. data protection.
GREENWICH, Conn. (PRWEB) June 09, 2018
Civicom, leading market research facilitator using telephone and web-enabled tools, is a gold sponsor and speaker at the North American leg of the Insight Innovation Exchange Conference 2018 on June 11-13, 2018 in Atlanta. Civicom's presentation will be on the impact of the General Data Protection Regulation (GDPR) and the Facebook data management hearings on US legislation for consumer data.
Civicom Market Research Services, a global leader in facilitation services that works consistently throughout EU countries as well as the U.S. and around the globe, will walk IIeX attendees through the brewing of the 'perfect storm' that is the Facebook Cambridge Analytica scandal and the implementation of GDPR. Rebecca West, Global Vice President and Chair of Civicom's GDPR Compliance Committee, will offer insights into how these two convergent events may influence the future of U.S. data protection rules, and how variations in the U.S. and EU cultures may impact the appetite for data protection in the U.S.
IIeX North America is a disruptive client-driven insights conference that explores market research trends and innovations in the industry. Civicom once again joins the conference as a sponsor and speaker, showcasing their innovative suite of telephone and web-enabled market research tools alongside hundreds of insights professionals looking forward to learn more about best practices, new market research techniques, technologies, and solutions, as well as the outlook of the insight research industry in the years to come.
Attendees may catch Civicom's presentation entitled "A Perfect Storm: Facebook and the GDPR - What The Future Portends for U.S. Legislation" following IIeX NA's Track 2 on June 12 at 3:00 PM. The schedule of activities may be accessed via the following link: http://iiex-na.insightinnovation.org/agenda.
About IIeX NA
Insight Innovation eXchange (IIeX) is a global conference series which is part of the Insight Innovation platform, brought to the marketplace by GreenBook. IIeX is singularly focused on advancing the business value of insights. It showcases the very best from inside and outside of the market research realm with a focus on technology innovation, thought leadership, collaboration and networking.
About Civicom Marketing Research Services
Civicom Marketing Research Services offers many options to enhance the research process for marketing research professionals. Civicom is the global leader in facilitating telephone and web-enabled IDIs and Focus Groups using Civicom CyberFacility®. Civicom also offers Civicom Chatterbox®, an asynchronous research platform for online communities and bulletin boards, plus the Civicom ThoughtLight™ Mobile Insights App, a mobile qualitative tool for collecting richer in-the-moment insights, offering geolocation plus offline accessibility for places where there is no data connection.
Civicom ThoughtLight™ works with both iOS and Android and is a useful tool for shopper insights, audio diaries and patient journeys. Civicom operates in over 96 countries and offers extensive translation services for marketing researchers, as well as transcription services through TranscriptionWing™, and market research respondent recruiting through CiviSelect™. All of these services are available in Spanish, as well as English, and multiple other languages.
Civicom Marketing Research Services continues to be at the forefront of innovation and new strategies in marketing research, actively participating in various conferences and networks that engage in developing new techniques with the latest technologies globally. Civicom is known among its clients for dedication to service quality and for the company's motto "Your Project Success Is Our Number One Priority."
Civicom Marketing Research Services chooses to be as dynamic as it is innovative; always listening to and acting on clients' ideas and requests as they see fit. This kind of relationship has paved the way for the development and roll-out of new services.
To learn more, email Civicom® at inquire(at)civi(dot)com or call +1-203-413-2423.