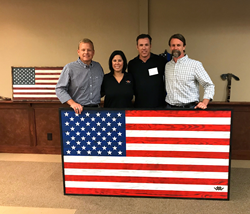 The flag is a symbol of our home and all we believe in. It also represents freedom from addiction. And the quality of these flags matches the quality of healing that went into the construction of it. ~ Chris Stricklin, U.S. Air Force Col (ret) and Warriors Heart Foundation Honorary Board of Advisors
SAN ANTONIO (PRWEB) June 11, 2018
U.S. Air Force Colonel (ret) Chris R. Stricklin announces a Warriors Heart Foundation Awareness Campaign and Fundraiser from Flag Day (June 14, 2018) to Liberty Day (June 30). Anyone can support this effort and win one of two handcrafted flags by Warriors Heart clients through Stricklin's Protecting Our Protectors Facebook event and donation pages. All proceeds from this flag artwork raffle and silent auction will help provide residential treatment for warriors (military, veterans and first responders) overcoming their War at Home with chemical dependencies, PTSD (Post-Traumatic Stress Disorder), Mild TBI (Traumatic Brain Injury) and other recurring symptoms.
Stricklin is a member of the Warriors Heart Foundation Honorary Board of Advisors, and served 23 years in the U.S. Air Force, including combat in both Afghanistan and Iraq. After a recent visit to the Warriors Heart ranch in Texas, Stricklin reflected, "I experienced a spiritual awakening for the power of healing warriors found in making these custom flags. And along with my wife, Terri, we felt compelled to organize this campaign to highlight a veteran commits suicide an average of every 72 minutes, and a law enforcement officer does the same every 62 hours (according to the Badge of Life Study)."
During this unique peer-to-peer residential treatment program, warriors have the option of making a flag from materials at the Warriors Heart Foundation metal and wood shop. These one-of-a-kind flags are handmade from the heart, and then sold to benefit Warriors Heart Foundation. All profits support the foundations' "Pay It Forward" Program that helps a fellow warrior get treatment at Warriors Heart and find "Strength Through Healing."
This fundraiser will include two unique flags that are artwork made by Warriors Heart clients. Each flag is hand-signed on the back by the artist(s). And there are two ways to get involved:
1) FLAG 1 Raffle – Rustic Flag - Purchase raffle tickets to enter a raffle benefiting Warriors Heart Foundation ($5 per ticket or buy batches for larger amounts).
2) FLAG 2 Silent Auction – Traditional Flag - Bid in silent auction for this stunning flag via phone (205-669-3912) T-F 10am-3pm CST or in-person by Saturday, June 30, 2018, at the Shelby County Museum & Archives in Columbiana, Alabama.
Reflecting on the meaning of the flag during Stricklin's retirement speech at an Air Force Hangar at Beale Air Force Base, California, he emphasized: "We will forever have both a twinkle and a tear in our eye and pride in our heart each and every time we lock our gaze on our 13 stripes, on our 50 stars. And each and every time we hear any of our Constitution's 4,543 words."
Stricklin explains what this symbol of freedom represents to his family, "The flag means everything to us and guides our actions and reactions each and every day. The flag represents freedom. It is a symbol of our home and all we believe in…here, it also represents freedom from addiction. And the quality of these flags matches the quality of healing that went into the construction of it."
Stricklin's passion for the mission of the Warriors Heart Foundation is a result of this Fighter Pilot's "Survivor's Obligation" to improve each day. After walking away from what experts detail as an "un-survivable F-16 ejection" in 2003, Stricklin is currently writing a book called "Survivor's Obligation" (2019). Stricklin and co-author Joel Neeb explain, "life is not about making decisions you can live with, it's about making decisions you can die with." Through near-death experiences, the co-authors discuss the amazing opportunity to be more, do more, live more…and challenge people to earn the day!
In addition to raising funds, this Warriors Heart Foundation Awareness Campaign and Fundraiser will include:
1. Liberty Day Festival and Parade (June 29-30, 2018) – The Stricklins will host a Warriors Heart Foundation booth at the Liberty Day Festival in their hometown of Columbiana, Alabama, where both flag winners will be announced on June 30.
2. Fourth of July Week Warriors Heart Foundation Flag Celebrations – During the week of July 4, stories will be told to recap this campaign and the results.
Media Contact for Warriors Heart:
Liz Kelly: 310-987-7207
About Chris Stricklin (Columbiana, Alabama - near Birmingham)
U.S. Air Force Colonel (retired) Chris R. Stricklin is a combat-proven leader, fighter pilot, Thunderbird's solo, award-winning leadership author, renowned international motivational speaker, change management expert and Warriors Heart Foundation Honorary Board of Advisors Member supporting healing for veterans and first responders. Chris and his wife, Terri, have four children.
About Warriors Heart Foundation (Bandera, Texas)
Warriors Heart Foundation is a 501(c)(3) non-profit organization established to provide insurance supplements for "Warriors" seeking healing for chemical dependency and PTSD at Warriors Heart unique peer-to-peer program solely dedicated to warriors (veterans, military, and first responders). http://warriorsheartfoundation.org
About Warriors Heart (Bandera, Texas)
Warriors Heart is the first and ONLY private and accredited treatment center in the U.S. solely dedicated to healing warriors (military, veterans and first responders) struggling with chemical dependencies and PTSD. This unique peer-to-peer residential treatment program is the opposite of a hospital, and is on a 543-acre ranch with 40 beds. There is a 24-hour Warriors Heart hotline (844-448-2567) answered by warriors. http://warriorsheart.com