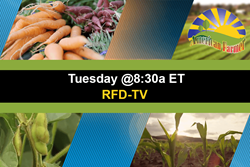 "American Farmer is dedicated to learning, exploring, and educating about the latest breakthroughs and advances taking place across the globe, and to showing the public how they are changing our world for the better."
Jupiter, FL (PRWEB) June 11, 2018
On Tuesday, June 12, 2018 @8:30aET American Farmer will explore the latest technological breakthroughs taking place in agriculture and how they are helping to feed our growing world.
Founded in 1935 by two brothers who believed in the value of service and integrity, Burrus Seed remains dedicated to providing quality seed, consistent performance, and exceptional value to its customers. This episode of American Farmer will focus on how Burrus has used its family's passion for American agriculture to fuel their success.
In this segment, viewers will learn about Soil Health Institute (SHI) and its mission to move scientific knowledge and technology from the research laboratory to the farm field by bringing together traditional and non-traditional agricultural industry partners, farmers, ranchers, government agencies, scientists, and consumers.
Working to increase sustainability, biodiversity, air quality, and more, Organic Ag Products (O.A.P.) follows natural growing practices to provide superior, safe, and successful products for all aspects of organic crop protection. This segment will educate viewers about O.A.P.'s suite of products and will show viewers how they cover the needs of organic farmers.
"Modern farms operate far differently today than they did just a few decades ago. This is primarily due to advancements in science and technology," said Jennifer Tierney, senior producer for the series. "American Farmer is dedicated to learning, exploring, and educating about the latest breakthroughs and advances taking place across the globe, and to showing the public how they are changing our world for the better."
About American Farmer:
American Farmer is a breakthrough program on a mission to showcase the latest advancements in agriculture and farming. From seed to harvest, livestock and more, our producers have traveled the country covering the people, places and issues impacting all areas of farm country.
American Farmer airs Tuesdays at 8:30am ET on RFD-TV. For more information, visit http://www.AmericanFarmerTV.com or call 866.496.4065.