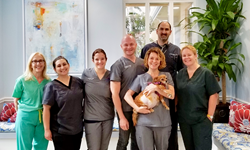 She gained her strength and was doing so well that she and her dad were able to catch an earlier flight back to New York said Dr. Pelosi
Jupiter, Florida (PRWEB) June 11, 2018
Jupiter, Florida (June 7, 2018) — It has been said that cats have nine lives. No one knows for sure whether that's really true, but one dog from New York recently received a second lease on life, thanks to Dr. Augusta Pelosi and her team at North American Veterinary Heart Center in Jupiter, Florida.
Meet Brownie, a sweet 13-year-old Chihuahua who was rescued by The Mr. Mo Project, an upstate New York group whose mission is to nurture dogs abandoned because of old age.
Brownie had degenerative mitral valve disease and was a regular cardiology patient at Upstate Veterinary Specialties in Latham, New York. Suddenly, she began to develop repetitive episodes of pericardial effusion, which is an abnormal and, in Brownie's case, deadly buildup of fluid around her heart. Removing Brownie's pericardium was necessary. One of New York's top veterinary institutions, was consulted; her owners said veterinarians were unwilling to operate on Brownie because of her age, her underlying heart condition and the complexity of the required surgery.
Despite the long distances involved, the cardiologist in New York recommended Dr. Pelosi and North American Veterinary Heart Center because of Dr. Pelosi's significant expertise in cardiology and complex cardiac surgery.
"The shelter vet said Brownie had about two weeks to live," said Chris Hughes, one of the founders of The Mr. Mo Project and Brownie's dad. "We were not about to give up on Brownie and knew that her only hope was Dr. Pelosi and North American Veterinary Heart Center."
Dr. Pelosi and her team spent weeks preparing to give Brownie the best chance of success.
When they performed surgery on May 1, not only did the anesthesiologist face multiple challenges because of Brownie's pre-existing mitral valve disease, but Dr. Pelosi also had to decide whether to use a challenging technique called epicardial stripping to peel away the inner layer of the sac that surrounds the heart.
The procedure was a success and Brownie was discharged from the hospital after two days of recovery. "She gained her strength and was doing so well that she and her dad were able to catch an earlier flight back to New York." Dr. Pelosi said.
Brownie is doing well since her surgery. "She is scheduled to continue the care with the primary cardiologist, who will keep a very close eye on her and continue to treat her for her mitral valve disease," Dr. Pelosi said. "We were delighted to get to know Brownie, her daddy and the wonderful mission of The Mr. Mo Project."
Mr. Hughes is grateful for the care Brownie received. "The North American Veterinary Heart Center offers pet owners, rescues, and breeders a huge benefit by making life saving heart surgery available, Dr. Pelosi saved Brownie's life giving our family a second chance" he said.
North American Veterinary Heart Center is at 1680 S. Central Blvd., Suite 112, Jupiter. For more information, visit http://www.navetheart.com or call 561-250-6580.
About North American Veterinary Heart Center:
North American Veterinary Heart Center is the world's most advanced veterinary cardiology and heart surgery center offering an advanced portfolio of cardiology, heart surgery, and dental procedures for "high-risk" patients such senior pets or pets with underlying medical conditions. The center's medical director is Dr. Augusta Pelosi the world's only double board certified veterinary cardiologist and heart surgeon. Located in Florida's biomedical hub of Jupiter, NAVHC provides easy access to international airports and welcomes pets and their families from around the world.
For media inquiries, telephone Jack E. Lighton at 561-386-8606.
Social Media Links: