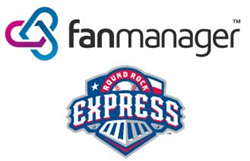 Round Rock Express is committed to adopting innovative technologies that enrich the fan experience
(PRWEB) June 11, 2018
Fan Manager™, innovating intelligent fan activation solutions for sports and entertainment properties, today announced it will be joined by the Round Rock Express Baseball Club in a featured presentation at the ProVenue Exchange 2018 (June 11-13; Charleston Marriott). The Fan Manager/Round Rock Express session – Big Data Doesn't Need to Be Complicated -- will explore how Round Rock is using Fan Manager technology to harness vast amounts of data in creating the best fan experience possible in growing Austin, Texas. ProVenue Exchange (PVEX), the Tickets.com annual conference, brings together thought leaders, technologists, and marketing experts who are innovating the experience industry. The PVEX18 Fan Manager/Round Rock Express session will be held on June 12.
Experience Brings Stories to Life
"This year's ProVenue Exchange theme – Experience Brings Stories to Life – really resonates with the partnership we've developed with Round Rock Express," explained David Melnick, CEO of Fan Manager. "Round Rock Express is committed to adopting innovative technologies that enrich the fan experience and Fan Manager is helping them to realize that vision with our next-generation platform for fan search, segmentation, and activation. We are delighted to share the experience of that fan activation journey at ProVenue."
The Fan Manager/Round Rock Express session will examine the industry catalysts that prompted Round Rock Express to partner with Fan Manager, a member of the Tickets.com Registered Developer Program, as well as the myriad of fan data that continues to grow apace with the burgeoning Austin market. Using Fan Manager, Round Rock Express is able to easily unify data from ticketing, CRM, commerce, social media, email, and other disparate sources into a single source of the truth. This holistic view enables Round Rock Express to quickly identify, analyze, measure, and activate fans for increased revenue. "Fan Manager is helping is us to make sense of a lot of data," said Laura Fragoso, senior vice president of marketing at Round Rock Express. "More importantly, the fan insights that we get from Fan Manager enable us to create meaningful fan experiences, which contribute to our community and give folks a great story to share with their families and friends."
About Fan Manager
Fan Manager enables sports and entertainment brands to intelligently unify, activate, and monetize their fan data. Its cloud-based, AI-powered software platform aggregates fan data from more than 60 sources to create a 360- degree view of each fan's purchase and engagement behavior. These real-time capabilities empower customers to analyze, segment, and activate fans for increased revenue. Owner-backed and headquartered in Boston, Fan Manager customers include some of the most forward-thinking sports properties in the world such as A.S. Roma, Atlanta Hawks, Boston Celtics, Buffalo Bills, Round Rock Express, and the Washington Nationals. Visit http://www.fanmanager.com. Follow us on LinkedIn and Twitter.
###
All product and service names mentioned herein are the trademarks of their respective owners.