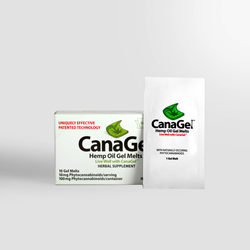 "Typical absorption of pills, edibles and oils range from as little as 6% to 33% as they go through the digestive tract. Since CanaGel is placed inside the cheek the oil is being absorbed by the oral mucosal and therefore, is immediately absorbed into the bloodstream."
ENGLEWOOD CLIFFS, N.J. (PRWEB) June 12, 2018
CanaGel introduced the first ever full spectrum hemp oil gel melt at the CWCB Exposition) In New York City last weekend. CanaGel was developed by renowned doctors to provide rapid absorption as well as being simple to use and convenient.
According to Spencer Kay, CEO of SSL Global Holdings LLC, which owns controlling interest in CanaGel, "Typical absorption of pills, edibles and oils range from as little as 6% to 33% as they go through the digestive tract. Since CanaGel is placed inside the cheek the oil is being absorbed by the oral mucosal and therefore, is immediately absorbed into the bloodstream." Independent lab results show that within 10 minutes, virtually 100% of the nutrient rich hemp oil was absorbed in vitro.
Kay added, "CanaGel is the only brand with this high rate of absorption. Attendees at the show saw substantial benefits from using CanaGel and many came back to purchase the product at the conference."
Just some of the benefits of CanaGel include:

Uniquely effective patented technology
Great way to obtain daily hemp oil
No prescription needed
Non-psychoactive
No artificial preservatives
Sugar free/Gluten Free
Natural mint flavor
Nutrient rich herbal supplement
Organic
Vegan
Non-GMO
CanaGel comes in a box of 10 gel melts, each being 10mg of hemp oil from the seed and stalk.
Matt Karnes of Greenwave Advisors is optimistic about the growth of the market telling
Forbes, "In terms of the market size, I estimate an almost $3 billion market by 2021.
"CanaGel is posed to be a major player in this rapidly growing market," stated Kay.
For more information, press only:
PR contact name: Spencer Kay
Phone number: 844-226-2435
Email: Spencer(at)canagel(dot)com
For more information on Product:
http://www.CanaGel.com
Video presentation
https://www.youtube.com/watch?v=xp40uEaBmSo