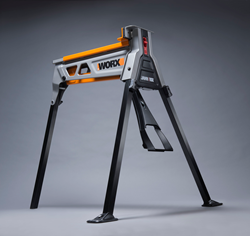 WORX JawHorse provides dad with both an instant workstation and DIY helper.
CHARLOTTE, N.C. (PRWEB) June 12, 2018
On Father's Day, give dad the gift of faster, easier and more successful do-it-yourself projects with a versatile WORX® tool gift. Among this year's top choices are the new WORX JawHorse® and WORX 20V Shop Blower.
Giving Dad the WORX JawHorse provides him with both an instant workstation and DIY helper. This 36-lb. workhorse folds up and goes wherever the project is located, then sets up in minutes. Constructed of heavy-duty, powder-coated steel, its three-legged, wide-stance design has solid footing even on uneven surfaces.
The handy, portable workstation has jaws that open up to 34.6 in. and has one ton (2,200 lbs.) of clamping force. That's nearly three times the width and 10 times the clamping power of conventional bench vises. It supports loads up to 440 lbs. Yet, its non-marring jaws secure work pieces without scratching the surface.
In addition, JawHorse features a patented, hands-free, foot-activated pedal clamping system that's easy to operate. By pumping the foot pedal, the clamping jaw travels 1 in. with each stroke and compresses against the work piece until the desired tightness is achieved.
In effect, JawHorse provides an extra set of hands to help dad with projects, such as hanging doors, sanding or refinishing cabinets, cutting lumber, holding fence posts, repairing furniture, securing odd-shaped objects and more. It easily secures a bicycle for maintenance, such as replacing a chain, changing a tire, tightening spokes or polishing rims.
JawHorse quickly folds for compact storage or transport. The front legs have locking/unlocking tabs. A locking and unlocking switch located on the face frame of the JawHorse secures and releases work pieces. For permanent installation, the front legs have pre-drilled holes for mounting.
See the WORX JawHorse in action: https://www.youtube.com/watch?v=DaCrXPH8kDw.
WORX JawHorse (WX060.2, $99.99) is available at http://www.worx.com and Menards. It's covered by the WORX three-year warranty.
Dad will agree that the least enjoyable part of many projects is cleaning up afterwards. That's when the new WORX 20V Shop Blower comes to the rescue.
The WORX 20V Shop Blower is a great tool for dad to keep on hand to quickly remove dust and debris from workshops, garages and other areas outside the house.
This cordless shop blower weighs only 2.8 lbs. (with battery), but it delivers a 120 mph air stream to blast sawdust and other debris from hard surfaces, workbenches and difficult -to-reach areas. It comes with two versatile attachments: a short tube and dust brush.
The short tube's stubby air cannon design is ideal for quick cleanups. Its concentrated air blast clears out sawdust, dirt and debris from workbenches, garage floors and shelves, window sills, deck and patio steps, picnic tables and more.
The dust brush is great for removing sawdust from hard-to-reach corners and crevices of stationary and benchtop power tools. It's also handy for clearing sliding door and window frame tracks and dislodging dirt and dust from creases in patio furniture, among other tasks.
The shop blower is powered by a 20V, Max Lithium 1.5 Ah battery. Charging time is 5 hours. As part of the WORX 20V Power Share program, the shop blower's battery is interchangeable with all other WORX 20V lawn and garden and DIY tools, creating cost savings and convenience.
The WORX 20V Shop Blower (WX093L, $99.00) comes with a 20V, 1.5 Ah MAX Lithium battery, charger, short tube, dust brush and accessory bag. The WORX 20V Shop Blower- Bare Tool Only (WX03L.9, $49.99) is covered by the WORX three-year warranty. They are available at http://www.worx.com .
Reach out to WORX social media links at: Facebook: https://www.facebook.com/worxus?ref=hl and Twitter: https://twitter.com/WORXTools