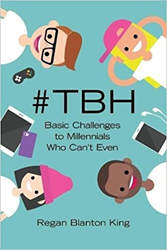 LONDON (PRWEB) June 11, 2018
As a millennial, Regan Blanton King believes that many in his generation have "completely lost the plot." According to him, it is evident in the common millennial character traits of laziness, lack of commitment, inability and unwillingness to properly communicate with others, hatred of structure and rules, weird revisioning of history and historical texts, and a general lack of moral objectivity that has been replaced by subjective feelings. In his book titled "#TBH: Basic Challenges to Millennials Who Can't Even" (published by Abbott Press), King seeks to encourage his fellow millennials to "wake up" and challenge themselves to be better and do better for God, family, country and self.
Readers may visit https://www.amazon.com/TBH-Basic-Challenges-Millennials-Cant/dp/1458221598 to purchase and know more about the book.
"#TBH" is a short, sharp and punchy take on common and harmful elements of millennial mentality and behaviour. It seeks to diagnose the source of millennial problems, give a prognosis if problems persist, and then positively present solutions.
As a Christian millennial, King hopes that the book can encourage other Christian millennials and challenge them to not be conformed by society's low expectations of their generation.
"Our world says 'love your weaknesses,' Jesus says 'repent' and 'follow me.' Jesus brings the needed change the world denies and decries," King expresses. "Do not allow yourself to be defined by your generational grouping and its unique attributes. Be defined by Christ and His Word. These are the foundational principles on which this book stands. This is the foundation on which, I, a millennial, desires to be defined for God's glory and the good of myself and others until my dying day."
"#TBH: Basic Challenges to Millennials Who Can't Even"
By Regan Blanton King
Hardcover | 6x9 in | 110 pages | ISBN 9781458221582
Softcover | 6x9 in | 110 pages | ISBN 9781458221599
E-Book | 110 pages | ISBN 9781458221575
Available at Amazon and Barnes & Noble
About the Author
Regan Blanton King is a Christian who pastors The Angel Church, in the Angel, Islington, area of London, England. He is a communications officer for life issues with Christian Concern. King has lived on both sides of the Atlantic, growing up in Tumbling Shoals, Arkansas. Enjoying sports, he enjoys keeping up with the Arkansas Razorbacks, Arsenal FC, Atlanta Hawks, England Rugby, and is a Roger Federer fan. He regularly travels to teach, preach and train others from the Bible, and holds a degree in theological studies from Highland Theological College at the University of Highlands and Islands.