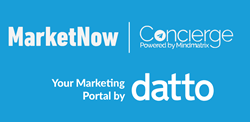 The new marketing concierge packages are in addition to the already existing and popular, MarketNow Concierge package for Datto partners
PITTSBURGH (PRWEB) June 19, 2018
Pittsburgh-based, leading channel and sales enablement software provider, Mindmatrix announced today that it was launching four new marketing concierge service packages with leading continuity and disaster recovery innovator, Datto.
Datto's partners are MSPs (Managed Service Providers); with Mindmatrix's long standing leadership in concierge services for MSPs, the new programs offer a perfect solution for common marketing challenges faced by MSPs. The new programs, MarketNow Essentials, Market Now Concierge Plus, MarketNow Elite and MarketNow Enterprise offer varying levels of MSP marketing and sales assistance to Datto Partners. Each of these programs target very specific partner profiles offering the right kind of marketing and sales support for every partner type from a sole MSP business owner to a large MSP enterprise. The highlight of the newly launched MarketNow programs is the content package in MarketNow Essentials. MarketNow Essentials offers access to additional, fresh content on a monthly basis that the MSPs can use to market Datto's services to their clients.
These four new MarketNow programs are in addition to the already existing and extremely popular MarketNow Concierge Service that was launched a year ago in June 2017. The program, powered by Mindmatrix, enables all of Datto's global partners by offering a Sales Enablement and Marketing Automation Platform (MarketNow) to its widespread network of managed service provider (MSP) Partners.
About MarketNow Concierge Services:
MarketNow Concierge Services offer MSPs outsourced sales and marketing support (offered by Mindmatrix) ranging from sending emails and editing landing pages to importing and organizing leads and sales assets. Subscribers also have access to pre-packaged content including emails, blog posts, social posts, e-guides, landing pages and sales playbook.
Datto partners can learn more about the new MarketNow Concierge Services here.
About Mindmatrix:
Mindmatrix is a company offering Channel & Sales Enablement software. It stands uniquely differentiated in the marketplace by being one of the only companies providing a Single Unified Platform that offers PRM software, Direct Sales and Channel Enablement, Channel Marketing Software, Marketing Automation and Marketing Asset Management. Mindmatrix's platform enables both direct and indirect sales channels in a company, to be more far more efficient and productive and the marketing organization to effectively integrate their efforts into the sales activities to facilitate rapid revenue growth.
Through its MSP-IT Advantage Program, Mindmatrix works with hundreds of MSPs, integrators and VARs to make their marketing easy and effective. Mindmatrix empowers MSP sales and marketing teams with Marketing Automation, Sales Enablement and Asset Management tools, Content and Managed Marketing Services to enable MSPs, VARs and integrators to generate leads and close deals more effectively.
About Datto:
Datto's mission is to empower the world's small and medium sized businesses with the best in enterprise-level technology. We do it by equipping our unique community of Managed Service Provider partners with the right products, tools and knowledge to allow each and every customer to succeed. It's an approach that's made us the world's leading provider of MSP delivered IT solutions. Datto is headquartered in Norwalk, CT, with offices worldwide. Visit http://www.datto.com for more information.