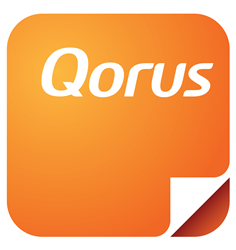 We are delighted once again to be included in the Fifty Five and Five Inbound report. We work hard on our Marketing and it's great to be recognized for the efforts we have put into our inbound, content marketing and CX strategies, said Heather Thompson, SVP of Marketing
(PRWEB) June 12, 2018
Qorus Software named in Top 50 Inbound Marketing Excellence report 2018.
Qorus Software has been placed in the top 50 of Fifty Five and Five's 2018 Inbound Marketing Excellence report for the fourth year in a row. The report is now in its 4th year, and is looked on by those in the industry as a barometer of marketing excellence in the channel. As with previous years it will be released at Microsoft Inspire, which is being held July 15-19 at the Mandalay Bay Convention Center in Las Vegas.
This year Fifty Five and Five analysed nearly 39,000 companies, looking at their web, blog and social output. The report celebrates those Partners who have built a consistent inbound marketing strategy with a clear focus on their customers.
The very best inbound and content marketing in the Microsoft Partner Network
This year's report includes profiles of the best performing Partners, as well as interviews, insights and case studies from industry experts, including:

Foreword from Gavriella Schuster, Corporate Vice President, One Commercial Partner, Microsoft
An interview with Mitchell Feldman, Chief Digital Officer at HPE Pointnext, on the ongoing challenge of great content marketing (and life after RedPixie)
Insights and key findings from the 39,000 partners we analysed
Get your copy of the report. You can pick up your free copy of the report in Las Vegas, from the Fifty Five an Five stand (#1622). Or you can download a digital copy from: https://www.fiftyfiveandfive.com/inbound-marketing-excellence/
About Qorus
Qorus helps organizations create business critical documents more efficiently and accurately. Our software is incredibly powerful but highly intuitive and very easy to use. Even the most non-technical users can quickly create accurate, personalized and compliant documents like proposals, contracts, RFPs, pitches, and reports.
Qorus runs on Microsoft Azure and integrates with Microsoft Office to enhance document productivity. Our award-winning Customer Success team ensures our customers across all industries get the most value from our software. We have offices in Seattle, London and Cape Town.
Learn more about Qorus at https://www.qorusdocs.com/
Contact information:
Heather Thompson, SVP of Marketing, Qorus Software
http://www.qorusdocs.com
marketing(at)qorusdocs(dot)com
About Fifty Five and Five
Based in London, UK, Fifty Five and Five is a digital marketing agency born out of a recognition that Microsoft Partners face a unique set of challenges when it comes to B2B marketing. They help Microsoft Partners communicate more effectively, reach new audiences and drive leads.
Contact information:
Chris Wright, Founder, Fifty Five and Five
http://www.fiftyfiveandfive.com/
02037437897
chris.wright(at)fiftyfiveandfive(dot)com