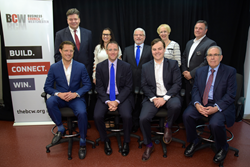 WESTCHESTER COUNTY, N.Y. (PRWEB) June 12, 2018
The Fordham Real Estate Institute and The Business Council of Westchester co-hosted the successful Real Estate's Next Revolution – From The Amazon Effect to Cannabis Legalization forum on Wednesday, May 30. The breakfast panel, which took place at the University's West Harrison campus, brought together the leading minds in the industry for a discussion about the state of adaptive reuse throughout Westchester and how new opportunities will impact the commercial real estate landscape.
The gathering touched on the continued explosion of e-commerce and its multibillion-dollar impact on the commercial real estate industry, as well as opportunities that could arise in Westchester from the legalization of medical marijuana in New York state.
"There's so much going on with the industrial effect, Amazon and cannabis," said moderator Michael Stoler, president of NY Real Estate TV, LLC business and real estate advisors; host and producer of television shows "The Stoler Report" and "Building New York: NY Stories;" co-chair of the Fordham Real Estate Institute's Industry Outreach Committee and adjunct faculty member. "The opportunities have increased. For example, Westchester's strong medical community is well-suited to support cannabis demand in regards to patients with post-traumatic stress disorder and chronic pain."
According to panelist Michael McQueeny (associate and chair, cannabis practice, Genova Burns Attorneys at Law), there is burgeoning growth in the cannabis industry as states decide on its legalization. It is imperative that investors and commercial property owners understand local politics before embarking on projects. For some states that have legalized the plant, local communities have capitalized on the opportunity to revitalize depressed areas. Of note, McQueeny explained that one of the remarkable things about cannabis businesses in the West is the upscale look and feel, which community members are more open to.
During the discussion, panelists Adam Altman (founder and managing member, KABR Group) and Seth Pinsky (executive vice president and investment manager, RXR) emphasized the importance of fostering a creative culture for economic success with any real estate project, regardless of business type. In light of the Amazon effect, companies need to figure out how to take advantage of the retail industry's transformation and look at properties that will attract such businesses. Modern space is "sorely lacking" in the New York City and surrounding areas, and places like Westchester and New Jersey can truly benefit from such innovation. At the same time, while companies like Amazon have beneficial impacts on job creation and the economy, they can also cause displacement of brick and mortar retail competition within the real estate industry.
"I'm proud of the Real Estate Institute's dedication to staying at the forefront of trends that are impacting and revolutionizing the real estate industry," said Anthony R. Davidson, Ph.D., dean of Fordham's School of Professional and Continuing Studies. "It was refreshing to hear the group discuss such provocative and controversial topics. I know that the open exchange of ideas had the audience thinking even after the session was over."
"I always look forward to collaborating on events that further support the BCW's focus on the county's urban centers and continued growth," said Marsha Gordon, president and CEO of the Business Council of Westchester. "Based on today's discussion, the real estate industry has quite a few things to consider in order to keep up with the pace of innovation in the business world. We need to proactively bring experts together to help better understand these trends and resulting opportunities, to ensure the industry's future success."
The Real Estate's Next Revolution – From The Amazon Effect to Cannabis Legalization event was sponsored by First American Title™, LeChase Construction and Simone Development Companies. Red Oak Transportation served as the transportation partner.
ABOUT THE FORDHAM REAL ESTATE INSTITUTE
The Fordham Real Estate Institute currently offers a Master of Science in Real Estate, a graduate certificate, and a comprehensive array of professional real estate certificates at its campuses in Manhattan and West Harrison, New York. Serving professionals and owners/investors of all stripes, the MSRE curriculum presents the essential elements of real estate finance, investment, development and management. Both programs developed and taught by leading industry practitioners are centered on imparting real-world professional skill sets. Flexibility and convenience are program hallmarks: classes can be taken in-person, online, and at various paces. The Real Estate Institute is a part of Fordham's School of Professional and Continuing Studies. For more information, visit http://www.fordham.edu/realestate.
ABOUT THE BUSINESS COUNCIL OF WESTCHESTER
The County's largest and most influential business membership organization, The Business Council of Westchester is committed to helping businesses market, learn, advocate and grow. In addition, The Business Council of Westchester is actively involved in reviewing federal, state and county legislation and regulations in order to assess the potential impact on the business community and to influence the outcomes through advocacy when the business community's interests may be affected. It also acts as an information resource for the business community and government leaders at all levels. Visit http://www.thebcw.org.